Press Release
CA Nurses: Elect Gavin Newsom as Our Next Governor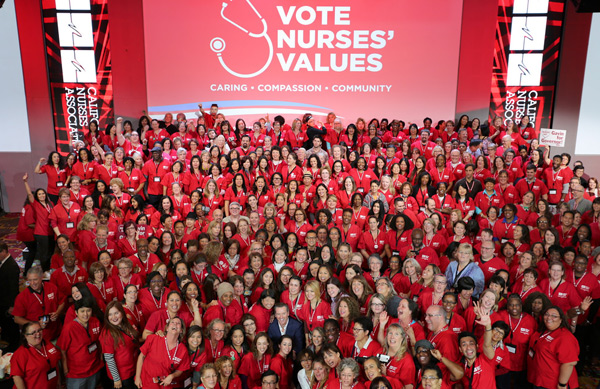 Before an ecstatic audience of 1,000 registered nurses, California's largest organization of nurses today announced its endorsement of Lt. Gov. Gavin Newsom to be the state's next Governor.
"Gavin has been a trailblazer" said RoseAnn DeMoro, executive director of the California Nurses Association/National Nurses United in announcing the endorsement. "He set the standard on issues that weren't always popular" in his prior role as mayor of San Francisco, from universal healthcare to same-sex marriage, to local solutions for climate change.
"His intelligence, his presence, his passion, and the courage of his commitments have been a hallmark of his career," DeMoro said. "He is a natural ally of ours, and his message resonates deeply with nurses."
DeMoro also praised Newsom as the obvious successor to the successful rein of current Gov. Jerry Brown. "California is the golden state and should always have the gold standard as governor."
"This is a big deal," said Newsom in welcoming "the first endorsement of my campaign for Governor."
"The nurses stood with me when I was Mayor and brought universal healthcare to the first major city in the country, and I'm thrilled and honored that they continue to stand with me in my campaign," said Newsom in an advance statement.
Speaking to the assembly of nurses, Newsom praised the visionary role of CNA and of nurses, and highlighted the success of the Healthy San Francisco program, a plan, Newsom said proudly, guaranteed "healthcare for all San Franciscans regardless of ability to pay or immigration status."
And, DeMoro emphasized, Newsom "is committed to bringing a single payer/Medicare for all bill to California" just as California nurses and NNU "will continue to fight for single payer nationally as well as in California and other states.
In his speech Newsom also highlighted the need for action on poverty and inequality in California. He noted that 8.8 million Californians continue to live below the poverty line, including 26 percent of children in California; "that is not sustainable."
Income inequality is also still far too high in California as in the nation, said Newsom. Noting Gov. Brown's frequent attention to the classics, Newsom quoted Greek historian Plutarch that "the imbalance between rich and poor is the oldest and most fatal ailment of all republics."
On Thursday, December 3, nurses will also join with environmental activists for a major march and rally in Los Angeles, coinciding with the United Nations Climate Summit, COP 21, underway in Paris. The Los Angeles Climate Action Convergence will feature a rally at Pershing Square, 532 Olive St., in downtown Los Angeles.
CNA and NNU members have long cited the health consequences of the climate crisis from pollution associated with fossil fuel production to the spread of infectious and vector-borne diseases to the deadly effects of climate-induced super storms.
The convergence is endorsed by numerous organizations including 350.org, Sierra Club, Food & Water Watch, Courage Campaign, East Yard Communities for Environmental Justice, MLK Coalition of Greater Los Angeles, Amalgamated Transit Union, Los Angeles for Bernie Sanders, A3PCON/Asian Pacific Planning and Policy Council-Environmental Justice Committee, SoCal 350 Climate Action, Tar Sands Action Southern California, South Bay/L.A. 350, Progressive Christians Uniting, Trade Unions for Energy Democracy, and Friends of the Earth.  
CNA/NNU is the state's largest and premiere nurses' organization representing some 90,000 nurses in California, part of a national NNU membership of 185,000 RNs from coast to coast. 
Here's a link to photos of nurses and Gavin Newsom from today's announcement: https://www.flickr.com/photos/californianurses/sets/72157661882338296