Press Release
Bay Area Nurses Deploying to Puerto Rico Today Oct. 3 With Registered Nurse Response Network/AFL-CIO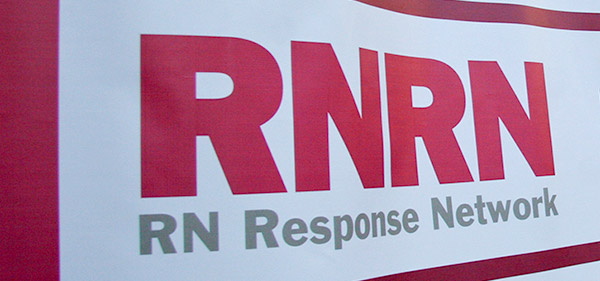 RNs Available for Interviews TODAY, 9:45 am, SFO Terminal 3/United Check In
Nearly 20 San Francisco Bay Area nurses will be departing San Francisco International Airport today, Tuesday, Oct. 3 to join a larger delegation of up to 50 volunteer registered nurses from across the U.S. who are headed to Puerto Rico with the Registered Nurse Response Network (RNRN). The volunteer nurses will provide medical aid in the wake of the ongoing humanitarian crisis following Hurricane Maria.
National Nurses United's Registered Nurse Response Network (RNRN), a national network of volunteer nurses, has recruited the RN team as part of a unique, multi-union, two-week disaster relief effort organized by the AFL-CIO.
What: Press Availability With Nurses Leaving SFO to Join Deployment to Puerto Rico
When: TODAY, Tuesday, Oct. 3, 9:45 am
Where: SFO, Terminal 3, United Check In
Contact: Kari Jones, 510-207-4829
The AFL-CIO is working directly with the Puerto Rican Federation of Labor as well as the San Juan mayor's office.
In Puerto Rico, the RNs will focus on immediate medical needs in local hospitals, nursing homes, and other sites based on immediate need for island residents who have endured unprecedented devastation as a result of the super storm.  They will be filling needs identified by the San Juan mayor's office as well as other local officials.
Press reports have indicated that in addition to the general poor conditions, hospitals have been overwhelmed struggling to meet medical needs, clinics and doctor's offices have failed to re-open, patients with chronic illnesses have not had access to needed medications, and concerns are emerging about the potential of cholera and other epidemics.
RNRN has more than 12 years of experience in providing disaster medical aid following global emergencies dating back to Hurricane Katrina and the deadly South Asia tsunami. Most recently, RNRN volunteers worked in a convention center in Houston and other locales in South Texas after Hurricane Harvey.
RNRN volunteer nurses have cared for thousands of patients during disaster relief and humanitarian assistance deployments that include the South Asian tsunami (2004); Hurricanes Katrina and Rita (2005); the Haiti earthquake (2010); Hurricane Sandy (2012); Super Typhoon Haiyan/Yolanda (2013), the Continuing Promise 2010 and 2015 humanitarian missions with the Department of Defense, and Hurricane Harvey (2017). RNRN volunteers have also provided first aid and basic response services to hundreds of community events across the country, as well as rotating teams who assisted the water protectors in Standing Rock in 2016. RNRN is powered by NNU, the largest organization of registered nurses in the U.S.