Press Release
Augusta VA nurses to rally tomorrow for respect for veterans and nurses, patient safety, and ending nurse moral distress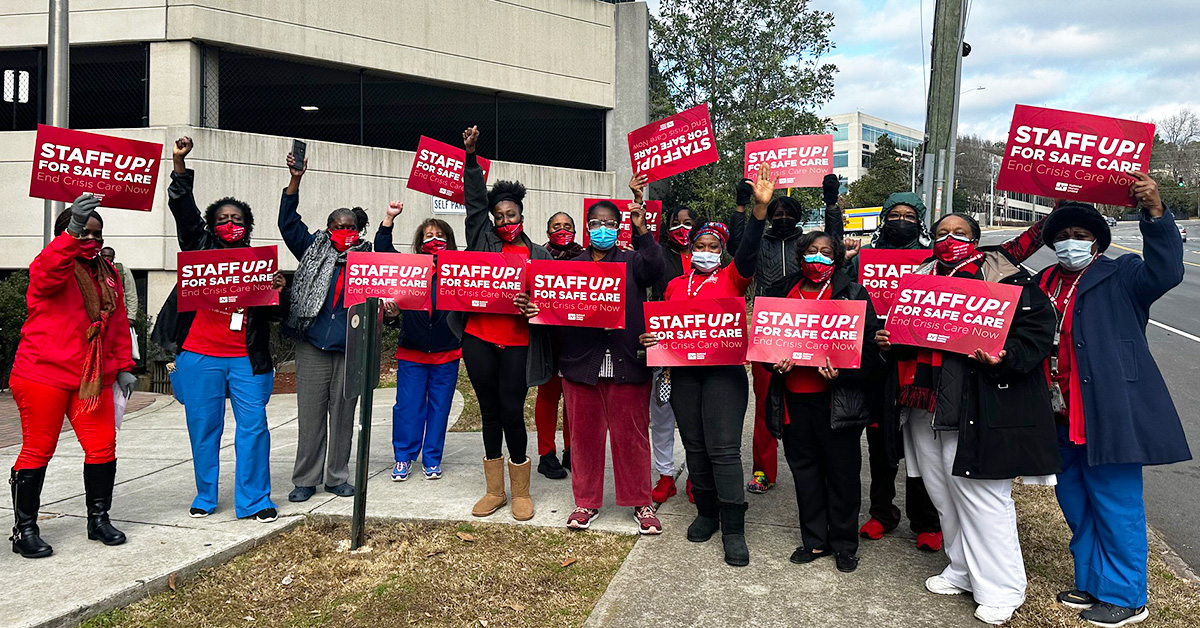 Registered nurses working at the Charlie Norwood VA Medical Center (CNVAMC) in Augusta, Ga., will hold an early morning, pre-Labor Day rally on Friday, Sept. 1, 2023, National Nurses Organizing Committee/National Nurses United (NNOC/NNU) announced today.
The rally will focus on urgent issues at their facility, such as CNVAMC's 25 percent nurse vacancy rate, executive management's lack of respect towards RNs, work-life imbalance for nurses who are stretched beyond the limit, and patient safety risks — all of which are driving nurses away.
Who:

RNs at Charlie Norwood VA Medical Center 
What: Rally for Respect & Patient Safety
When: Friday, Sept. 1, at 7:45 a.m.
Where: Charlie Norwood VA Medical Center, Downtown Division, corner of 15th St. and Harper St., Augusta
"There continues to be severe short staffing at our facility, and we're worried about what it means for our patients," said Irma Westmoreland, RN and NNU Augusta Area Director. "Nurses are leaving because of unsafe staffing, lack of real respect by top management, and because this VA still hasn't implemented flexible scheduling. According to the VA's own data, nurses who've left the system say flexible scheduling could've convinced them to stay."
"Our Spinal Cord Injury (SCI) unit is in crisis," said Jackie Williamson, RN, who is the NNU Augusta Area Grievance Chair and a NNU National Health and Safety Officer. "Seasoned RNs have left because of the working conditions, and the remaining nurses are overwhelmed. Over 25 critical nurse positions are vacant in this unit, and more nurses may leave. Flexible scheduling is not just a perk — it's a recruitment and retention necessity that CNVAMC top management has dismissed at the expense of veterans and nurses."
"Management is now forcing those nurses to work overtime. SCI nurses are dealing with moral distress and have started filing Assignment Despite Objection forms at an increased level, due to how unsafe they feel," Williamson added, referring to forms the union uses to document assignments nurses feel are unsafe. "Nurses want to work on units with this scheduling flexibility because they have more time for their families and lives outside of work. But instead of expanding these policies, CNVAMC management is making excuses and driving nurses out the door."
CNA/NNOC/NNU represents nearly 580 registered nurses at the Augusta CNVAMC.
---
National Nurses Organizing Committee is an affiliate of National Nurses United, the largest and fastest-growing union and professional association of registered nurses in the United States with nearly 225,000 members nationwide. NNU affiliates also include California Nurses Association, DC Nurses Association, Michigan Nurses Association, Minnesota Nurses Association, and New York State Nurses Association.