Press Release
Ascension Via Christi St. Francis nurses to mark International Workers' Day with an informational picket on May 1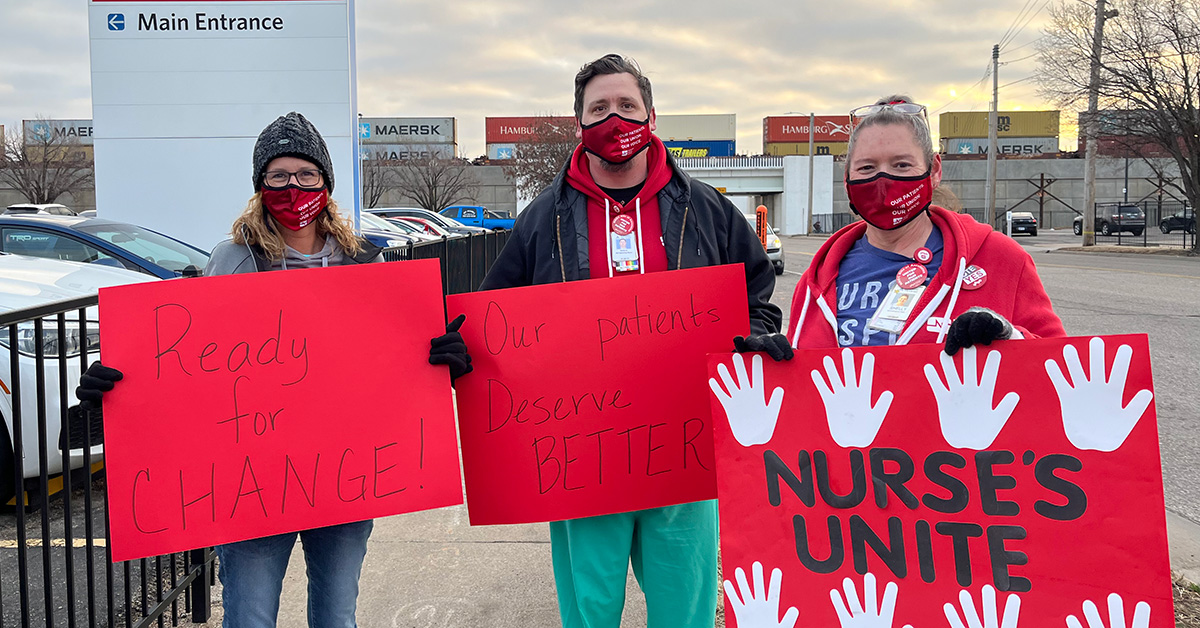 Nurses at Ascension Via Christi St. Francis in Wichita, Kan., will hold an informational picket on Monday, May 1, 2023, to urge management to agree to their bargaining table proposals regarding staffing and workplace violence prevention, announced National Nurses Organizing Committee/National Nurses United (NNOC/NNU]. They will also demonstrate to show the broader unity among Wichita nurses, including those at St. Joseph, who recently won their union and are set to begin contract negotiations later in May.
"We are marking May 1, International Workers' Day, with an informational picket to let the community know that, as RNs, we are proud to be their advocates and that we are committed to improving conditions at our hospital," said Sara Wilson, an RN in the orthopedic medical surgical unit at St. Francis. "When management is sluggish in their response to our proposals, it delays improvements and conditions deteriorate. Our message to Ascension is simple: Take responsibility for raising standards at St. Francis and agree to our proposals that address staffing and workplace violence."
St. Francis nurses have been in negotiations since February for a new contract with little to no movement on the RNs' initial proposals, which call on Ascension to establish a safe and enforceable staffing plan based on acuity for each unit and to create and implement a robust workplace violence prevention plan that guarantees the safety of patients and staff.
Who:

Registered nurses at Ascension Via Christi St. Francis

What:

Informational picket for patient safety and a fair contract

When:

Monday, May 1, 2023, 7:30 a.m. – 10:00 a.m.

Where:

Ascension Via Christi St. Francis, 929 N. Saint Francis St., Wichita, on sidewalks directly in front of the hospital and adjoining areas
"Nurses at St. Francis and St. Joseph are united in our desire to raise the standards of care at our hospitals as soon as possible," said Angela Cammarn, RN, who works in the cardiovascular intensive care unit at St. Francis. "Many of us work at both hospitals, and we know firsthand that when management prolongs the negotiation process, it delays implementation of the improvements in care that our patients need now."
"Our hospital should be a place where RNs can focus on patient care and patients can heal, but this is very difficult in an environment where workplace violence is a constant threat," said Shelly Rader, RN in the emergency department. "As nurses, we know that prevention is the cure, and that's why we're asking management to stop delaying their response and take our proposals for workplace violence prevention seriously."  
St. Francis RNs voted by a wide margin to affiliate with NNOC/NNU in November last year. Just four months later, in March, RNs at St. Joseph also voted to affiliate with NNU/NNOC. The union represents 650 nurses at St. Francis and 350 nurses at St. Joseph. Both hospitals are owned by Ascension, one of the largest not-for-profit and Catholic hospital chains in the nation, with 143 hospitals and other health care facilities in 19 states. Late last year, the New York Times published How a Sprawling Hospital Chain Ignited It's Own Staffing Crisis, an in-depth exposé on the chain's staffing practices.
---
National Nurses Organizing Committee is an affiliate of National Nurses United, the largest and fastest-growing union and professional association of registered nurses in the United States with nearly 225,000 members nationwide.