Press Release
Antelope Valley Nurses Vote by 96% to Authorize Strike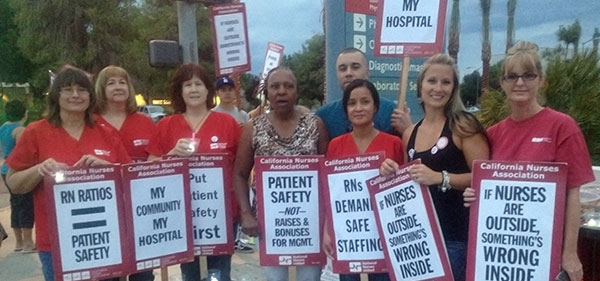 Call on Hospital Executives to Make Patient Care the Top Priority
Registered nurses at Antelope Valley Hospital turned out in record numbers last week to vote overwhelmingly by 96 percent to authorize a strike, if necessary, to protest the hospital's continued refusal to address issues such as unsafe staffing and high nurse attrition and turnover.
No date has been set for a possible strike. The California Nurses Association/National Nurses United represents approximately 1,000 RNs at Antelope Valley Hospital who are in contentious contract negotiations with hospital management.
"Antelope Valley nurses have been coming together, for a year, trying to get management to address chronic unsafe staffing levels and deteriorating patient care conditions," said Antelope Valley RN Maria Altamirano. "What this vote shows is that Antelope Valley nurses will continue to move forward, united in our advocacy for our patients. We are willing to speak up, collectively, until these serious issues are resolved."
Nurses say management has taken a hard line in negotiations that puts their patients in jeopardy, as well as pushing for cuts to the RNs' own livelihood and standards. The CNA Nurse Negotiating Team called for the strike vote after management recently made a series of proposals that would dramatically worsen staffing problems and severely hurt the hospital's ability to recruit and retain nurses.
"This strike vote should send a loud and clear message to hospital executives that their effort to reduce the level of care our patients receive is unacceptable. We will not stand by while management cuts corners and fails to provide nurses the resources we need," states Jackie Webb, an outpatient surgery center RN. "Our patients deserve better."
The parties are scheduled to continue negotiations on May 20 and May 23.