Press Release
Additional 350 Registered Nurses at University of Chicago Medical Center Vote to Join National Nurses Organizing Committee/National Nurses United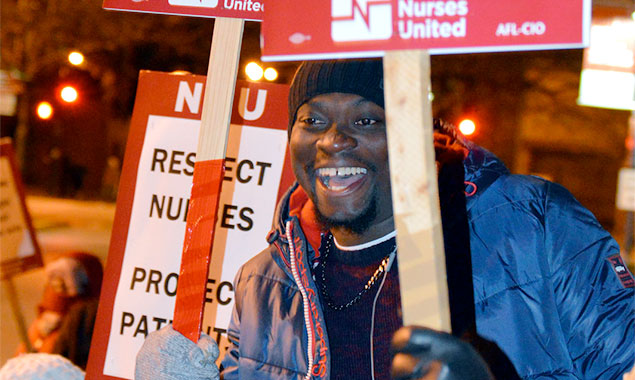 An additional 350 registered nurses at University of Chicago Medical Center (UCMC) voted overwhelmingly this week to join National Nurses Organizing Committee/National Nurses United (NNOC/NNU), the nation's largest union of registered nurses. The nurses will join the same bargaining unit as the 1,800 other UCMC registered nurses who are already part of NNOC/NNU.
The union ratification vote was overseen on November 7 and 8 by the National Labor Relations Board (NLRB).
"Having my voice heard about the safety of my patients, the security of my job and providing for my family is important to me," said Julie DiNovo, a registered nurse who works in the prep and recovery unit. "Joining the union makes sure that my voice matters." 
"We are so pleased to welcome these 350 University of Chicago Medical Center registered nurses into National Nurses United," said Jean Ross, a registered nurse and Co-President of NNU. "We know that through the union, nurses can raise their collective voice to advocate for the highest quality of care for all of their patients."
The new members of NNOC/NNU are nurses who work in the following areas:
special procedures areas such as cardiac cath lab, interventional radiology and dialysis
clinics in Hyde Park on the main campus
clinics in South Shore, Orland Park and South Loop
case managers, utilization review nurses and RNs that coordinate organ transplants
"For years we've been unable to protect ourselves from changes, unfair policies, and scheduling issues," said Marika Pierson, a registered nurse with the interventional radiology unit.  "With a union, we will be able to bargain over the issues that are most important to us and build a contract that will keep us and our patients safe."
NNOC/NNU nurses are proud of the patient safety gains they achieved in the last two contracts with UCMC. Those gains include: an end to rotating shifts, the creation of a Professional Practice Committee (a committee of staff nurses who meet to discuss staffing issues and patient safety concerns), the addition of 24 patient care support nurses, RNs whose sole purpose is to help other nurses when things get busy, and limiting patient assignments for charge nurses working in the intensive care units.
National Nurses United, with more than 150,000 members nationwide, is the largest union and professional association of registered nurses in U.S. history.