Press Release
7000 Registered Nurses at 15 HCA-Affiliated Hospitals in 5 States Vote Overwhelmingly to Authorize Strike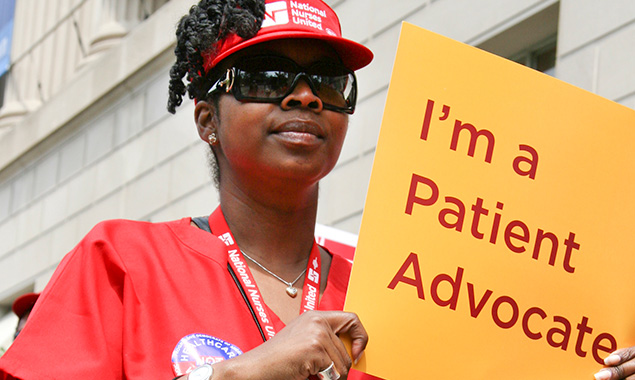 Registered nurses at 15 HCA-affiliated hospitals in Florida, Missouri, Kansas, Texas, and Nevada, have voted by an overwhelming majority to authorize their nurse negotiators to call a strike, if the issues RNs have been raising in ongoing contract negotiations remain unresolved, the National Nurses Organizing Committee announced today.
"With this strike authorization vote, nurses are making it absolutely clear that we are ready to strike to ensure optimal care for our patients." said Jack Hood, an RN in the ICU at Oak Hill Hospital in Brooksville, Fla. "From Florida to Nevada, we are united in our commitment to negotiating a contract that provides solutions to the issues we are raising including turnover, recruitment and retention, and consistent compliance with staffing grids."
Nurses at the following HCA-affiliated hospitals, with a total workforce of 7000 RNS, approved a strike authorization:
Florida
Bradenton - Blake Medical Center

Brooksville - Oak Hill Hospital

Kissimmee - Osceola Regional Medical Center

Port Charlotte - Fawcett Memorial Hospital

Sanford - Central Florida Regional Hospital

Sarasota - Doctors Hospital of Sarasota

St. Petersburg - Northside Hospital

St. Petersburg - St. Petersburg General Hospital

Trinity - Trinity Medical Center
Kansas
Overland Park - Menorah Medical Center
Missouri
Kansas City - Research Medical Center
Nevada
Las Vegas - MountainView Hospital
Texas
Corpus Christi - Corpus Christi Medical Center

El Paso - Las Palmas Medical Center

El Paso - Del Sol Medical Center
RNs are urging hospital management to address nurse turnover rates, create a process to consistently comply with hospital staffing grids, and invest in the recruitment and retention of nurses. According to data obtained from the hospitals, numerous units were out of compliance with the staffing grid during the time period reflected in the reports. In January 2018 for example, the Neuro ICU at MountainView hospital in Las Vegas, Nev., was out of compliance 87 percent of the time, and the critical care unit, Cardiac Tele, at Research Medical Center in Kansas City, Mo., was out of compliance 70 percent of the time.
Data obtained from the hospitals also reflects the difficulties they have in retaining RN staff, with more than 50 percent of nurses leaving many of the facilities within three years.
"We're urging the hospital to take immediate steps to reduce turnover and ensure optimal care by investing in the recruitment and retention of RNs," said Lucia Adams, an RN on the Women's and Children's Transport Team at Las Palmas Medical Center in El Paso, Texas. "They have the resources to invest in patient care, especially as beneficiaries of huge tax cuts under the Tax Cut and Jobs Act passed earlier this year."
"We are passionate about RN retention because this is what allows us to build strong teams of experienced RNs," said Leslie Rogers, RN, OR at Research Medical Center in Kansas City, Mo. "I've worked at this hospital for 43 years and because of this, I provide vital support to the development of other RNs. This isn't about a 'nursing shortage,' this is about the hospital investing in the recruitment and retention of experienced RNs for the benefit of our patients."
The RNs, affiliated with the National Nurses Organizing Committee, are in ongoing contract negotiations, with contracts expiring May 31, 2018 at the hospitals in Kansas City and Florida, and June 30, 2018 at the facilities in Texas and Nevada.
No strike date has been set at this time but should the bargaining team decide to move forward with a strike, nurses will provide hospital management ten days advance notice so that facilities can make appropriate preparations, including postponing elective procedures and making necessary patient transfers.
National Nurses Organizing Committee is affiliated with National Nurses United, the largest and fastest growing union of registered nurses in the United States with 150,000 members. NNU plays a leadership role in safeguarding the health and safety of RNs and their patients and has won landmark legislation in the areas of staffing, safe patient handling, infectious disease and workplace violence prevention.