News
Pramila Jayapal Just Scored One of the Biggest Progressive Victories of 2016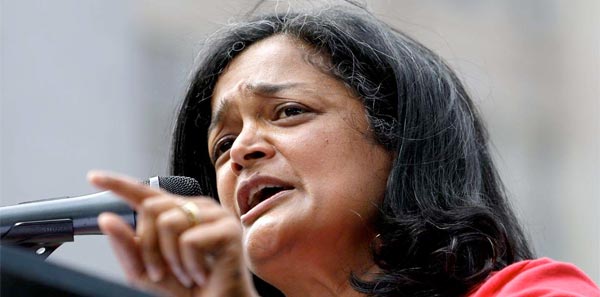 She was one of the first congressional candidates this year to earn an endorsement from Bernie Sanders.
If there is to be a political revolution sufficient to begin to usher in a new era of meaningful reform and people-powered democracy, Congress must change. A lot.
Reactionary Republicans must be removed and cautious Democrats must be replaced with outside-inside activists who understand how to make the connection between movements and policies.
In this volatile election year, there are no guarantees with regard to presidential or congressional politics. But there are encouraging signs from across the country. Donald Trump's Republican presidential run seems to be imploding and congressional Republicans who have aided and abetted his candidacy are beginning to abandon the sinking ship—opening up the possibility that Democrats could make real gains not just in the fight for control of the Senate but into the struggle to retake the House.
And a number of the Democrats who are being nominated for the House are progressives who really could change the chamber and the country. Civil rights and voting rights champion Jamie Raskin—a brilliant constitutional scholar and state legislator—is a clear front-runner to win an open seat in Maryland. Anti-corruption and anti-monopoly campaigner Zephyr Teachout has a real chance to take a Republican-held seat representing New York. And Pramila Jayapal is finishing well ahead in a primary to fill an open seat representing the state of Washington.
Pramila Jayapal is an immigrant-rights advocate who blends movement ideals with legislative skills.
An immigrant-rights advocate who merges movement idealism with a deep commitment on policy making, Jayapal jumped into a big lead as results were tabulated in the Seattle-area district where progressive Democratic Congressman Jim McDermott is retiring. Jayapal still faces a November race with one of two fellow Democrats who finished behind her in the initial returns. Jayapal was winning 38 percent Tuesday night, while King County Council member Joe McDermott and State Representative Brady Walkinshaw were battling for second place with 21.5 percent and 20.9 percent respectively.)
"We're building a movement that can clearly stake out a positive vision for the future of America at a time when too many people feel cynical about change, and when too many people are struggling to make ends meet and put food on the table," declared Jayapal, who was an outspoken activist before her 2014 election as a Washington state senator.
Jayapal came to prominence more than a decade ago, when she founded the group Hate Free Zone to battle intolerance in the aftermath of the 9/11 terrorist attacks. "When September 11 happened, I just thought to myself that everything is going to change for people who look like me," said Jayapal, an immigrant from India. The group evolved into OneAmerica, an activist organization that focuses on advancing "the fundamental principles of democracy and justice at the local, state, and national levels by building power within immigrant commu­nities in collaboration with key allies."
In the State Senate, Jayapal has championed wage hikes, voting rights, and protections for immigrants and minorities. Often aligned with Seattle City Councilwoman Kshama Sawant, the Socialist Alternative activist whom Jayapal backed for reelection in 2015, the state senator was an early entrant in the congressional contest for what The Seattle Times refers to as a "solidly liberal" district. But she hasn't pulled any punches; at her announcement event, for instance, she ripped into "people like Donald Trump [who] are whipping up hate and fear across the country, resulting in a rise of anti-Muslim violence."
Jayapal's campaign amplified messages that were sounded in the presidential race by Vermont Senator Bernie Sanders, whose candidacy she endorsed last year. "The vision has to be to fundamentally change the system," says Jayapal, who argues that "corporations and special interests have their voice in Congress, and they have too many members scared of their power. What Congress needs is a progressive voice who is unafraid to take on these powerful interests—who is willing to fight for all Americans, not just the wealthiest 1 percent."
"When you think of the political revolution, I want you to think about Pramila." -- Bernie Sanders.
Jayapal was one of the first 2016 congressional candidates to earn an endorsement from Sanders, who hailed her as a progressive who was "willing to continue the fight we started in this campaign."
Celebrating Jayapal's primary win, Sanders said: "Pramila just proved that candidates can run a strong progressive campaign funded by small-dollar donors and win big. The people-powered movement that propelled our campaign to victory in states around the country is already changing how campaigns are run up and down the ticket."
"When you think of the political revolution, I want you to think about Pramila," added Sanders.
In addition to the Sanders endorsement, Jayapal ran with the backing of major unions, environmental activists and reproductive rights groups—as well as national organizations such MoveOn and Democracy for America.
On Tuesdsy night, DFA chair Jim Dean hailed Jayapal as "a progressive leader who will take on the powerful in the fight for our country's populist progressive values."
"Our country desperately needs bold, values-driven leaders like Pramila Jayapal in the U.S. Congress," said Dean, who argued that "her strong finish in tonight's top-two primary will only make it easier for Democracy for America members in Seattle and across the country to help get her there over the next 97 days."
Original Post: https://www.thenation.com/article/pramila-jayapal-just-scored-one-of-the-biggest-progressive-victories-of-2016/