Member Benefits
Learn more about the salaries and benefits as well as retirement benefits available through organizing under an NNU contract.
---
Discounted services & free benefits from the AFL-CIO's Union Privilege. Because you are a member or retiree of NNU, you and your family are automatically eligible for Union Plus benefits.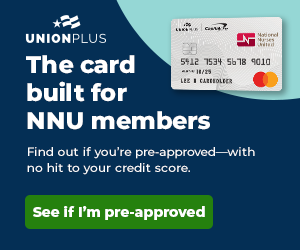 Union Plus Credit Cards* were designed to meet the needs of union members, with competitive rates, U.S.-based phone customer service** and more.
 *Credit approval required. Terms and conditions apply. Union Plus Credit Cards are issued by Capital One N.A. pursuant to a license by Mastercard International Inc.
**Routine or unscheduled maintenance may impact accessibility. U.S.-Based Phone Service subject to calling the phone number on the back of your Union Plus credit card and following the prompts.
---

CNA members receive up to a 10% discount on malpractice insurance from CM&F Group, developer of the nation's first Nursing Liability insurance. No Membership Fees or hidden charges.  Please call (800) 221-4904 for more information on discounted rates.
---

You'll Find A Lot Of Friends Here. We've been welcoming the dreams of nurses for over 20 years. Unlike banks, Provident is a not-for-profit credit union with higher yields on savings and lower rates on home mortgages and car loans. Give us a try and see how happy you'll be as a member. Call us, and we'll fill you in: (800) 632-4600. All deposits are federally insured.
---

CNA is proud to announce our partnership with Powells, the legendary independent bookstore. By buying books at Powells you are supporting a union bookstore, and supporting your union. CNA receives a 7.5% commission on each book sold through our partnership links. You also get great deals on new, used, rare, and out of print books. Powells has a huge inventory of books for all tastes.
---

CNA members are entitled to special discounts with Hertz. Your Discount CDP# 94388 is the key. Write it down and use it every time you make a reservation. To check rates or make a reservation, call your travel agent or call Hertz at 1-800-654-2200. Be sure and mention the Discount CDP# 94388 to receive special discounts.
---

Using the AVIS Worldwide Discount Program, CNA members can receive up to 10% discount on domestic car rentals, and 20% for international rentals. To reserve a car and receive the discounted rates, call 1-800-331-1212 for domestic rentals, 1-800-331-1084 for international rentals. Discounts can be used for either personal or business rentals; the special CNA discount number is T860100.
---
CNA members may now purchase Ford, Mazda, Nissan and General Motors Vehicles at fleet pricing at designated dealerships. Members must make an appointment at one of the participating dealerships and provide the fleet manager with your completed CNA Auto Purchase Program Validation Form available by.
---
Long term care insurance offered through John Hancock insurance; Call for information on discounted rates for yourself and family members. Other, standard rate plans also available including life, health and disability.
CONTACT Nadina Riggsbee at 707-747-0191
402 Arguello Drive, Benicia, CA 94510 - fax: 707-751-3735