International Nurses Day 2020 COVID-19 Memorial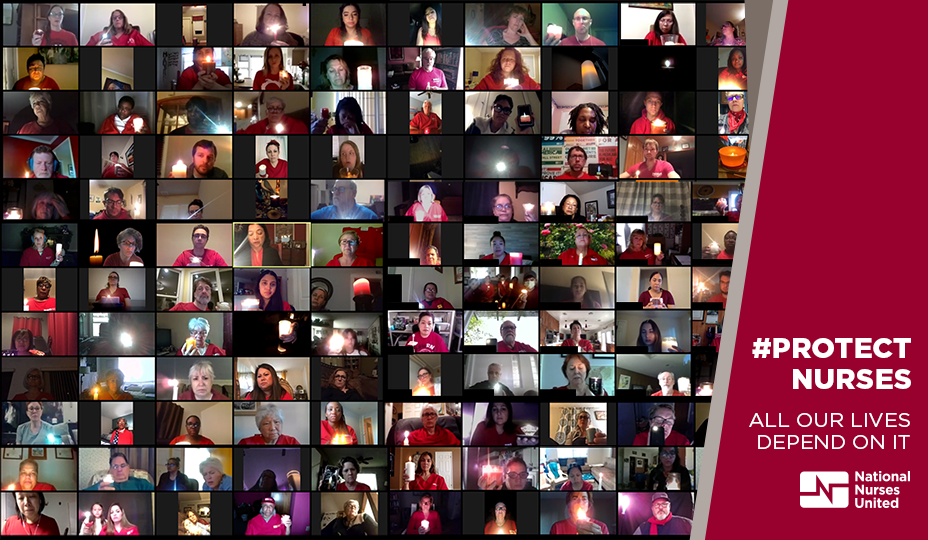 On International Nurses Day - May 12, 2020 - National Nurses United and Global Nurses United honor all nurses around the globe who have died as a result of insufficient PPE and infection control policies during the COVID-19 crisis.
Note: The list is based on publicly available information. There are likely more COVID-19 related deaths of nurses who have not been recorded or released to the public yet.
Argentina
Luis Alberto Almaraz - Buenos Aires
Silvio Cufré - Buenos Aires
Belarus
Nadezhda Fomina - Vitebsk
Svetlana Kiseleva - Vitebsk
Belgium
Isaura Castermans - Genk
Françoise - Enghien
Bolivia
Fanny Durán Cuellar - Montero
Disneyda Vare Suárez - Roboré
Brazil
Luiz Alves de Brito - Mossoró, Rio Grande do Norte
Maria Aparecida Andrade - Contagem
Maria Maria - Cidinha
Evandro Barbosa - Rio de Janeiro
Geovani Comochena - Federal District
Danielle Costa - Rio de Janeiro
Juraci Augusta da Silva - Sao Paulo
Edson Francisco da Silva - Barretos
Williane Lins dos Santos - Vitória de Santo Antão
Tatiane Tatiane - Carapicuíba
Denise Gomes - Marica, Inoã
Eduardo Gomes da Silva (Location unknown)
Luiz Henrique - Rio de Janeiro
Tânia Mara - Bonsucesso
Selidalva Marques - Francisco Morato
Idalgo Moura - Sao Paulo
Luzanira Odílio - Campo Limpo
Janieire Pires Felipe - Manaus
Betânia Ramos - Recife
Maria Elise Reis de Oliveira (Location unknown)
Viviane "Vivi" Rocha de Luiz - Brasilia
Dilvani Santana - Macrae
Maria Santos - Mandaqui
Carla Mileni Siqueira dos Santos - Marabá
Gloria (Last name unknown) - Sao Paulo
Name unknown - Recife
Canada
Brian Beattie - London, Ontario
China
Deng Danjing - Wuhan, Hubei
Liu Fan - Wuhan, Hubei
Zhang Jingjing - Shandong Province
Colombia
Alexis Panetta - Santa Marta
Czech Republic
Dominican Republic
Virgilio Lebron - Barahona
Egypt
Awatef Abdel Sadiq Ahmed al-Barmawy - Zagazig
Ibtisam Abdel Fattah Ibrahim (Location unknown)
Name unknown - Cairo
France
Diane Wilson Bahun - Paris
Elena Mamelli - Seine-Saint-Denis
Name unknown - Saint-Maur-des-Fossés (Val-de-Marne)
Germany
Honduras
María Alejandria Tejeda - San Pedro Sula
India
Jyoti Rakshe - Maharasthra State
Anita Rathod - Pune, Maharasthra State
Name unknown - Pune, Maharashtra State
Name unknown - Indore
Indonesia
Adharul Anam, S. Kep - Jakarta
Iran
Tahmineh Adibi - Bandar-e-Anzali
Ramin Azizifar - Tehran
Tahereh Esmaili - Qom
Ghorbanali Hosseinzadeh - Kashan
Fariba Izadpanahi - Shiraz
Molud Jafari - Tehran
Shahrouz Karimian - Karimian
Mohsen Khadem - Kashan
Narjes Khan Alizadeh - Lahijan
Ali Sheikh Moradi - Rasht
Nahid Noshad - Gilan
Reza Poursaki - Abadan
Sa'adat Shakibayi - Yasouj
Ali Sheikh Moradi - Rasht
Gholamreza Vosughi Kia - Rasht
Mohammad Yar-Ahmadi - Sagez
Narjes Khanali Zaedh - Lahijan
Iman Moein Zaedh - Astaneh Ashrafieh
Ireland
Israel
Italy
Lucetta Amelotti - Pavia, Lombardia
Oualid Mohamed Ayachi - Legnano, Milano
Nicoletta Corina Berinda - Torino, Piemonte
Iside Botti - Maggiore
Salvatore Calabrese - Benevento, Campania
Francesco De Berardino - Pescara, Abruzzo
Simonetta De Piccoli - Treviso
Maria Rosaria Esposito - Napoli, Campania
Annamaria Gi Giacomo - Napoli, Campania
Laura Grippaldi - Piacenza, Emilia Romagna
Lidia Liotta - Bergamo, Lombardia
Concetta Lotti - Pavia, Lombardia
Silvia Lucchetta - Cortellazzo
Edi Maiavacchi - Parma, Emilia Romagna
Roberto Mariniello - Napoli, Campania
Luciano Mazza - Bergamo, Lombardia
Mary Monteleone - Milano, Lombardy
Marco Offredi - Genova, Liguria
Anna Poggi - Genova, Liguria
Elena Nitu Rodrica - Cremona, Lombardia
Manuela Sacchini - Pescara
Daniela Trezzi - Monza, Lombardia
Suor Gianermina Uroni - Bergamo, Lombardia
Ivana Valoti - Bergamo, Lombardia
Giuseppina Vilano - Cesa
Angela Vinci - Tortona, Piemonte
Mara Zara - Padua, Veneto
Kuwait
Malaysia
Mexico
Heriberto Arenas Solís - Atizapan
Raul Garcia Espinoza - Mexico City
Lorna Gabriela Graniel Cervantes - Cancun
Estela Hernández Cruz - Nezahualcoyotl
Miguel Ángel Martínez - Mexico City
Griselda Damián Mateo - Mexico City
Pakistan
Malik Ashtar - Gilgit
Sadaf Jameel - Gujrat
Peru
Jenny Carrasco Montañez - Iquitos
María Rosa Chahua Palomino - San Juan de Lurigancho
María Eloisa Del Aguila Grandez - Pucallpa
Johnny Guerra García (Location unknown)
Socorro Huiman Flores - Lima
Melissa Hashanga Marichin Bachelor - Iquitos
Sadith Meléndez Rucoba - Loreto
Philippines
Elvies Duque - Taguig
Shella Malto - Cavite
Manuel Pacheco - Mandaluyong City
Faye Marie Luna Palafox - Manila
Arvin Pascual - Nueva Ecija
Name unknown (Location unknown)
Name unknown (Location unknown)
Name unknown (Location unknown)
Romania
Cristian Stupiuc - Suceava County
Russia
Tatyana Avanesyan - Syktvvkar
South Africa
Petronella Benjamin - Western Cape
Name unknown - King Williams' Town
Name unknown - Western Cape
Spain
Pedro Carillo León - Jaén/Andalucia
José Agapito Montero Mozos - Ciudad Real/Catilla la Mancha
Esteban Peñarrubia - Madrid
Encarnación Vicente Verdejo - Vizcaya/Pais Vasco
Turkey
Ayla Blac - Istanbul
Dilek Tahtali - Istanbul
United Arab Emirates
Janette Daywan Alano - Dubai
Lezly Ocampo Concepcion - Dubai
Marlon Jimenea - Sharjah
United Kingdom
Mary Agyeiwaa Agyapong - Luton, England
Augustine Agyei-Mensah - England
Esther Akinsaya - Woolich, London, England
Michael Allieu - London, England
Fiona Anderson - Sunderland, England
Malujean Ballesteros - Paddington, London, England
Ate Wilma Banaag - Watford, England
Gilbert Barnedo - London, England
Gaily Catalla - Maidstone, Kent, England
Philomina Cherian - Oxford, England
Rachel Makombe Chikanda - London, England
Linda Clarke - Wigan, England
Andy Collier - Warrington, England
Lynsay Coventry - Harlow, England
Linnette Cruz - Sketty, Wales
Angie Cunningham - Selkirk, Scotland
Katy Davis - Southampton, England
Leilani Dayrit - Rugby, England
Ade Dickson - Edgware, England
Keith Dunnington - Gateshead, England
Josiane Zauma Ebonja Ekoli - Harrogate, England
Julie Edward - Reading, England
Adekunle Enitan - Ashford, England
Brigette Anguma Eteli - Chipping Barnet, England
Sophie Fagan - London, England
Cecilia Fashanu - Carlisle, England
Jodon Gait - Worcester, England
Amor Padilla Gatinao - London, England
Liz Glanister - Liverpool, England
Janice Glassey - Warrington, England
Janice Graham - Greenock, Scotland
Thomas Harvey - London, England
Emilita Hurboda - Nottingham, England
Karen Hutton - Broughty Ferry, Dundee, Scotland
Mahadaye Jagroop - Birmingham, England
Jane Mary Jongwe - Birmingham, England
Grace Kungwengwe - Lewisham, England
Ken Lambatan (Location unknkown)
Suzanne Loverseed (Location unknkown)
Rebecca Mack - Newcastle upon Tyne
Grant Maganga - Tameside, England
Samson Maja - Enfield Town, England
Rachel Makombe-Chikanda - London, England
Irene Mandaza (Location unknkown)
Josephene Mastic - Southport, England
Patrick McManus - Stafford, England
Leilani Medel - Bridgend, Wales
Miharajiya Mohideen - London, England
Gladys Mujajati - Derby, England
Lill Sandie Mudzivare - England
Ruben Muñoz, Jr. - Redhill, England
Areema Nasreen - Nasreen
Khulisani Nkala - Leeds, England
Gladys Nyemba - Nottingham, England
Gill Oakes - Bolton, England
Eyitolami Olaolorun - London, England
Onyenachi Obasi - London, England
Julie Omar - Redditch, England
Aimee O'Rourke - Margate, England
Anujkumar Kuttikkottu Pavithran - Boston, England
Steven Pearson - Newcastle upon Tyne, England
Julie Penfold - Birkenhead, England
Ricky Perico - London, England
Lelaine Lopez Pesario - Swansea, Wales
Josephine Peter - Southport, England
Maria Victoria Prado - Sittingbourne, England
Gareth Roberts - Cardiff, Wales
Jennie Sablayan - London, England
Barbara Sage - London, England
Alice Sarupinda - Walsall, England
Elsie Chafulumira  Sazuze - Wolverhampton, England
Rahima Bibi Sidhanee - Sutton, London, England
Felicity Siyachitema - London, England
Donald Suelto - London, England
Alice "Kit" Tak Ong - London, England
Margaret Tapley - Witney, England
Jun Terre - Stoke Mandeville, England
Sara Trollope - London, England
Larni Zuniga - Godalming, Surrey, England
Name unknown - Carlisle, England
Name unknown (Location unknown)
United States
Milagros Abellera - San Antonio, Texas
John Abruzzo - Long Island, New York
Divinia "Debbie" Accad -Detroit, Michigan
Quen Agbor Ako - Randallstown, Maryland
Romeo Agtarap - New York, New York
Felicia Ailende - Chicago, Illinois
Jerry Alford - Northport, Alabama
Elena-Beth Alejandre - Maryland
Taiwo Alubajo - Yeadon, Pennsylvania
Larrice Anderson - New Orleans, Louisiana
Jennifer Anderson-Davis - Ballwin, Missouri
Robert "Bob" Armstrong - El Paso, Texas
Walter Nforsi Asah - Silver Spring, Maryland
Yaw Asante - New York, New York
Lois Aschcroft-Merrell - Jefferson, Arkansas
Arlene Aquino  - Panorama City, California
Earl Bailey - Ft. Lauderdale, Florida
Whitney Ballance - Asheville, North Carolina
Nicanor "Nick" Baltazar - Flushing, New York
Marsha Kaye Bantle - Newburgh, Indiana
Elizabeth Bartolome Del Mundo - Caldwell, New Jersey
Jeff Baumbach - Stockton, California
Roxanne Bent - New York, New York
Theresa Berbano - New York, New York
Angeline Bernadel - Milford, Connecticut
Barbara Birchenough - Belleville, New Jersey
David Blagrove - New York
Dorothy Jean Boles - Greenwood, Mississippi
Mark Leighton Bowen - New York, New York
Joyce Brown-Wifgall - New York, New York
Araceli Buendia Ilagan - Miami, Florida
Danilo Bulima - Newark, New Jersey
Irene "Rene" Burgonio - Brooklyn, New York
Virdree Burns Jr - New York, New York
Maria Guia Cabillon - New York, New York
Jina Cadabono-Sisnero - Bloomfield, New Jersey
Marlino Cagas - New York, New York
Patrick Cain - Flint, Michigan
Paul Anthony Camagay - Covina, California
Sheila Campbell - Pennsylvania
Evelyn Caro - Silver Spring, Maryland
Rosary Celaya Castro-Olega - Los Angeles, California
Mavis Charles - New York
Gabriel Chinwendu - Washington, DC
Sheila Faye Christian - Philadelphia, Pennsylvania
Susan Cicala - Bellville, New Jersey
Samantha Collings Wissinger - Troy, Michigan
Daniel Coronel - Brooklyn, New York
Deborah Coughlin - Glastonbury, Connecticut
Rosemary Couto-Figaro - New York, New York
Dana Davis - Louisville, Kentucky
Ernesto "Audie" Deleon - New York, New York
Raul Della Eslao - Westland, Michigan
Elizabeth DelMundo - West Caldwell, New Jersey
Danielle DiCenso - Hialeah, Florida
Karla Dominguez - El Paso, Texas
Daisy Doronilla - Kearny, New Jersey
Douglas Enteman - Dover, Dover
Corazon Espinosa - New York, New York
Carolyn Ettinger - Carolyn Ettinger, New York
Lisa Ewald - Detroit, Michigan
Cristino Fabro - Flushing, Flushing
Alexandra Faerber - Atlanta, Georgia
Sybil Freeman - Beaufort, South Carolina
Renee French - New York, New York
Necitas Galura - New York, New York
Helen Gbodi - Washington, DC
Anne (Lucia) Gerardo-Repayo - New Jersey
Emma Goolsby - New York, New York
Kevin Graiani - Union City, New Jersey
Lorenza "Lori" Guerrero - McAllen, Texas
Ali Dennis Guillermo - Patchogue, New York
Rose Harrison - Hamilton, Alabama
Samantha Hickey - Caldwell, Idaho
James House - Detroit, Michigan
Marilyn Howard - New York, New York
Judith L. Heimann - Carlyle, Illinois
Ilkah Hernandez - Waterbury, Connecticut
Michelle Herring - White Plains, White Plains
Patricia Hudgins - Englewood, Colorado
Araceli Buendia Ilagan - Miami,  Florida
Faye Jackson - Mobile, Alabama
Aleyamma John - New York, New York
Madeline Johnson - Burlington, New Jersey
Kurt Julian - Kirkland, Washington
Kious Kelly - New York, New York
Suzanne Koransky - Wayne, New Jersey
Maria Krier - Littleton, Massachusetts
Erwin Lambrento - Queens, New York
Celia Lardizabal Marco - Los Angeles, California
Maria Grace Esteves Laureta - Bronx, New York
Angela Lewis - New York, New York
Rose Liberto - Charlotte, North Carolina
Theresa Lococo - New York, New York
Maria E. Lopez - Chicago, Illinois
Maria Luisa Lopez - Bayonne, New Jersey
Felicisimo Luna - Elizabeth, New Jersey
Maureen Lunney - New York, New York
Lydia Tandoc Macuja - Royal Oak, Michigan
Steven Malagraph - Nyack, New York
Mike Marceaux - Shreveport, Louisiana
Celia Lardizabal Marcos - Los Angeles, California
Thyce Mattice - New York, New York
Kelly Mazzarella - Mount Vernon, New York
Carolyn McBride - Glen Carbon, Illinois
Francis Mee - Tewksbury, Massachusetts
Jose Mendeja - New Jersey
Cynthia "Chi" Mendoza - Norfolk, Virginia
Lisa Micek - Grand Island, Nebraska
Sheena Miles - Morgan, Mississippi
Anjanette Miller - Chicago, Illinois
Valrena "Val" Miller - Kayenta, Navajo Nation - Arizona
Gloria Minor - New York, New York
Edwin Montanano - Kearny, New Jersey
Linda Morris - New York, New York
Kathy Nelson - Chesapeake, Virginia
Ellen B. Norman - Chester, Pennsylvania
Joshua Obra - Long Beach, California
Freda Ocran - New York, New York
Sandra Oldfield - Fresno, California
Oluwayemisi "Yemi" Ogunnubi - Chicago, Illinois
Pamela Orlando - Ridgewood, New Jersey
Joyce Pacubas Le Blanc - Chicago, Illinois
Pilar Palacios Pe - Fort Washington, Maryland
Marybeth Papetti - Dumont, New Jersey
David Perea - Reno, Nevada
Livette Plan - Middletown, New York
Suppee Pojjananuvat - New Rochelle, New York
Mary Ellen Porter - New York, New York
Azinet Pudpud - Bronx, New York
Robert David Reisinger - Chicago, Illinois
Neff Rios - Memphis, Tennessee
Maria "Bambi" Roaquin - Cortlandt Manor, New York
Sonia Román - San Juan, Puerto Rico
Jose Ruiz III - Harlingen, Texas
Brian Saddler - Wayne, New Jersey
Ernesto Santos - San Dimas, California
Ellyn Schreiner - Fairborn, Ohio
Rosemary Sell - New York
Lyubov Semidubersky - Brooklyn, New York
Kathy Sims - Florence, South Carolina
Noel Sinkiat - Washington, DC
Susan Sisgundo - New York, New York
George Sisnero - Newark, New Jersey
Victor Sison - Passaic, New Jersey
Ryan Slattery - Philadelphia, Pennsylvania
Barbara Ann Stewart - Blanch, North Carolina
Kathy Stuart - Salem, New Hampshire
Rose Taldon - Boston, Massachusetts
Imelda Tangonan - Valhalla, New York
Robert Tarrant - West Orange, New Jersey
Vianna Thompson - Reno, Nevada
Kerri Unsworth - Providence, Rhode Island
Nancy Veto - Chicago, Illinois
Royce Villa - West Bloomfield, Michigan
Svetlana Vinokur - Brooklyn, New York
Krisalyn Viste - Ontario, California
Aleksandr Vollmann - Seattle, Seattle
Judy Wilson-Griffin - St. Louis, Missouri
Samantha Collings Wissinger - Troy, Michigan
Celia Yap-Banago - Kansas City, Missouri
Rebecca Yee - New York, New York
Rose Zubko - Bethpage, New York
Name unknown - Stockbridge, Georgia
Name unknown - Houston, Texas
Name unknown - Los Angeles, California
Name unknown - Ohio