Blog
Nurses Returning from Second Puerto Rico Mission Call Any Removal of FEMA Aid 'Premature and Deadly'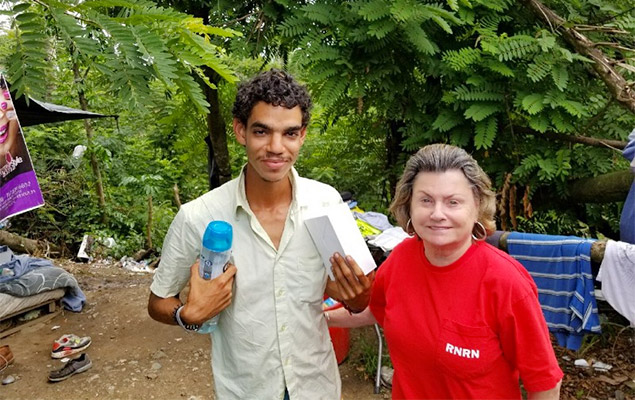 Puerto Rico cannot go back to a 'normal' economy when patients have not received the necessary help they need to go back to any kind of 'normal' life.
During a recent deployment to Puerto Rico, Amy Tidd, RN — a volunteer with National Nurses United's RN Response Network (RNRN) disaster relief program — witnessed a landfill in Anasco full of storm-related debris. To Tidd, the debris registered as more than just shattered belongings. She realized it was the lost touchstones of Puerto Ricans' normal, everyday lives.
"Each one of the thousands of broken refrigerators I saw is representative of someone who lost everything in Hurricane Maria," said Tidd. "Even though things are slowly getting better, people are not going to have new homes built by magic. There is an overwhelming sense of fear at this point."
Tidd and her fellow RNRN volunteers were in Puerto Rico for a week in late-January (following an October deployment with the AFL-CIO), working in partnership with International Medical Corps volunteers and local providers.
"A lot of the professional people have left the island," said RNRN volunteer Betty Woods, RN, explaining that RNRN volunteers on the January deployment helped relieve local staff. "The healthcare professionals who remain have been inundated with patients since the storm and haven't had a break."
Volunteer RNs helped treat hundreds of patients in mobile clinic units and through home visits. Nurses say they found that while Puerto Ricans' healthcare needs are being addressed, the healthcare system in Puerto Rico is changing, post-storm, for the worse. At a time when their everyday lives are still full of uncertainty, according to nurses, the mental health of Puerto Ricans is also suffering.
Manmade Disaster: Privatizing Care
According to RNRN volunteers, while organizations like the International Medical Corps and its local partners were stepping up and providing robust healthcare in Puerto Rico, the accessibility to care is eroding due to a longer-term move, on an island that had guaranteed universal healthcare in its constitution, to private health insurance.
"The acute disaster is over, now it's a manmade disaster," said Tidd. "The hurricane has been used as an excuse to take the opportunity to privatize resources and implement austerity policies, just like it did after Katrina in New Orleans."
RNRN volunteer nurse Maria Rojas, who deployed to Puerto Rico in both October and January, said that while the most recent volunteer mission gave her the sense that Puerto Ricans have access to the care they need, their coverage for that care is changing.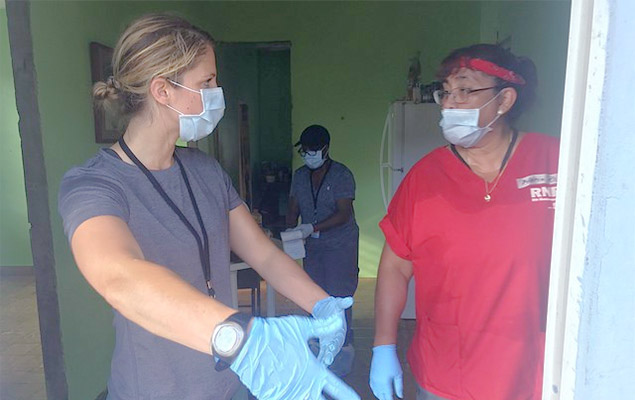 "The health care corporations that we worked with are on the front lines and they are seeing the changes being implemented: increases in insurance costs, changes in medications and what is being covered and not covered, costs are being cut. They now have to chase down funding sources including grants to do their work," said Rojas, who worked with MedCentro in Ponce, on the south side of the island during the January deployment.
"We [helped set up a clinic at] a federally funded housing project that has not had electricity since the storm. A couple of the buildings were completely destroyed," said Woods, who was assigned to Corporacion SANOS, in Caguas. She points out that while things have gotten better in many ways, she witnessed roads that were not clear, "debris all over, including downed power lines."
"Life goes on for the population that remains," said Woods. "It seems the poor always take the brunt of things!"
FEMA Aid Still Crucial
Like Woods, Tidd and Rojas also say they witnessed situations in which locals were still living without power, without enough work, and without easy access to survival supplies. To that end, NNU/RNRN nurses have condemned the recent announcement that the Federal Emergency Management Agency (FEMA) would soon cut off food and water aid to Puerto Rico.
"How could our government even think about denying aid to citizens of the U.S. when they need it? That time to provide this aid is still now," said Tidd.
In a reversal of the original announcement that aid would be cut off January 31, FEMA later stated it would discontinue new shipments to the island, with a focus on ramping down its aid. That news, say nurses, is cold comfort to Puerto Ricans who have already suffered from months of inadequate aid to begin with.
"As far as rebuilding of homes, electricity, and providing food, there were still quite a few people in the further reaches that were still depending on [FEMA aid] because they couldn't make it into larger communities. Their income was so low they didn't have enough money to pay for the gas," said Rojas, who points out that during RNRN's October deployment, nurses stepped into first responder roles in many cases, due to frequent encounters with storm survivors who had not yet been contacted by FEMA or any aid workers at all — up to four weeks after Hurricane Maria had hit.
"I live in Florida, and whenever we have a big storm come through, we have FEMA everywhere, setting up in local community centers, coliseums, everywhere. This is all within first week or two. I have never seen the response be as slow as it was to the people of Puerto Rico," said Rojas. "In Florida, we would have never been without resources that long."
Tidd says for Puerto Ricans who are still living without power and/or water, or who have lost jobs and the touchstones of their previous lives, the general sentiment she encountered was one of extreme uncertainty — contributing to a massive mental health care crisis on the island, where suicides have increased by 16 percent compared to 2016.
"The mental health issues we were running into were dire. People are depressed, and they don't know what to do because four months out from the hurricane, they are still saying that for some areas of the island, it will maybe be the spring, maybe as late as June, for power to be restored," said Tidd.
"Many Puerto Ricans I met don't know who they can trust," she added, pointing out the recent announcement that Puerto Rico's electric utility, the Puerto Rico Electric Power Authority (PREPA), would be privatized. "There's money to be made whenever there's a disaster. A lot of people are very aware of this."
Rather than expecting the people of Puerto Rico to get to the supermarket, to buy water and food in order to "go back to the normal economy," as FEMA has stated, RNRN volunteer nurses say the federal government should still be helping. After all, Puerto Rico cannot go back to a 'normal' economy when patients have not received the necessary help they need to go back to any kind of 'normal' life.
"For FEMA to even talk about leaving now is ridiculous. The people of Puerto Rico are not ready for us to pull out," said Rojas. "We need to be sure they have resources and funding. Another storm season is coming in less than six months."
For more than 12 years, RNRN volunteer nurses have cared for thousands of patients during disaster relief and humanitarian assistance deployments that include the South Asian tsunami (2004); Hurricanes Katrina and Rita (2005); the Haiti earthquake (2010); Hurricane Sandy (2012); Super Typhoon Haiyan/Yolanda (2013), the Continuing Promise 2010 and 2015 humanitarian missions with the Department of Defense, and Hurricanes Harvey, Irma and Maria (2017). RNRN volunteers have also provided first aid and basic response services to hundreds of community events across the country, as well as rotating teams who assisted the water protectors in Standing Rock in 2016. RNRN is powered by NNU, the largest organization of registered nurses in the U.S.
---
Bonnie Castillo
Director of Health & Safety at
@NationalNurses
, Director of Health & Safety at @NationalNurses, Director of RN Response Network; I'm an RN & healthcare champion who believes healthcare is a human right!