Blog
Nurses Join "Our First Stand: Save Health Care" National Day of Action Jan. 15th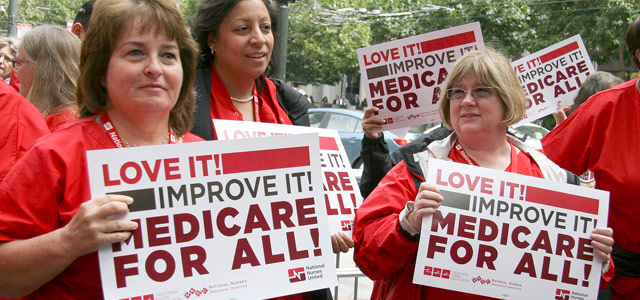 RNs to Congress: Now is the Time to Improve and Expand Medicare, Not Destroy It!
Registered nurses will join actions in over 40 U.S. cities Jan. 15th to demand that the new administration and Congress protect and expand millions of Americans' access to healthcare, not cut it.  
 
The RNs, affiliated with National Nurses United, plan actions in Chicago; Portland, Maine; Columbus, Ohio; Los Angeles; Sacramento; San Francisco; Fort Lauderdale; Fort Worth; Washington D.C.; and other cities.
 
"On this day of action we are standing with our elders, our friends, and family, along with many of our elected representatives to say NO to the Republicans' disastrous proposals," said Deborah Burger, Co-president, National Nurses United. "At this moment of tremendous confusion about the future of health care in the U.S., nurses are saying, now is the time to move forward with Medicare for all."
 
"RNs see the Medicare formula as the solution because it has a terrific track record of providing quality patient care to millions of elderly and disabled Americans," said Burger. "As nurses we urge Congress to adopt a comprehensive solution to our healthcare crisis once and for all by updating and expanding Medicare so that it provides universal healthcare."
 
The day of action, titled "Our First Stand: Save Health Care," was called for by Sen. Bernie Sanders, along with Senate Democratic Leader Charles Schumer and House Democratic Leader Nancy Pelosi, to send a clear message to the president-elect and members of Congress who are intent upon dismantling the Affordable Care Act, Medicare, and Medicaid.
 
"Our message to the Republicans is simple and straightforward: You are not going to get away with it. You are not going to punish the elderly, disabled veterans, the children, the sick and the poor while you reward your billionaire friends," said Sanders in his call to action.
 
Senator Sanders will speak at the Day of Action event in Warren, Mich. RSVP to watch the livestream of this event here: https://ourrevolution.com/
Partial list of  "Our First Stand: Save Health Care" events:
California:
San Francisco: 1 p.m. - Rally with House Democratic Leader Nancy Pelosi
SF City Hall
Hollywood: 5 p.m. - Light Brigade
Grauman's Chinese Theater, 6925 Hollywood Blvd
Sacramento: 5 p.m. - Light Brigade
West Steps of the California State Capitol
Florida:
Fort Lauderdale: 1 p.m.
Federal Courthouse, 299 E. Broward Blvd.
Tampa: 1 - 5 p.m.
Curtis Dixon Waterfront Park, 600 North Ashley Dr.
Illinois - Chicago: 1 p.m. - Rally with Sen. Dick Durbin and Rep. Jan Schakowsky
Central SEIU Healthcare HQ, 2229 S. Halsted Street

Maine - Portland: 1 p.m. Our First Stand Rally
Portland City Hall 
New York - New York City: 1 p.m. - Our First Stand Rally
Wall Street Bull - Broadway and Morris St
Ohio - Columbus: 4:30 p.m. Our First Stand Rally
Plumber and Pipefitters Union Hall 1250 Kinnear Ave.
Texas - Fort Worth: 1 - 3 p.m.
Tarrant County Courthouse, 100 W. Weatherford  St.
Washington D.C: 4 p.m.
Metropolitan AME Church, 1518 M St NW Washington DC.
To find out about other sites go to: https://berniesanders.com/ourfirststand/#List