Blog
Nurses Join Movement to End Illinois Budget Crisis By Taking to the Streets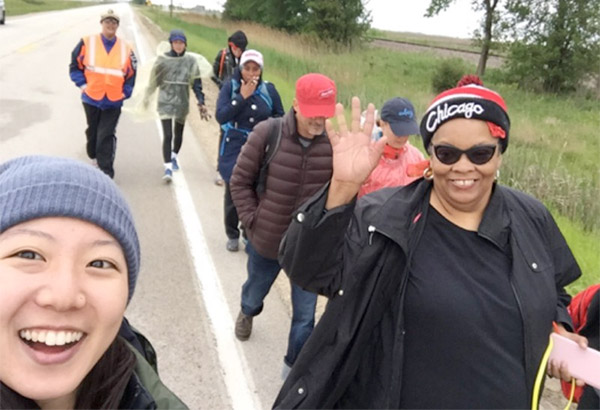 This Memorial Day weekend, Illinois members of National Nurses United (NNU), including RN Martese Chism, will lace up their walking shoes and prove that "going the extra mile" to stand up for their patients is a promise they take literally.
Chism will be joining the entire final May 26–30 stretch of the "March to Springfield," a protest led by Fair Economy Illinois, numerous groups and organizations so fed up with a nearly two-year delay on Democratic state assembly members and Republican governor Bruce Rauner passing a budget — that they decided to stand up and move on the budget themselves.
"My great-grandmother marched from Selma, Alabama to Montgomery, Alabama with Dr. Martin Luther King Jr. and Congressman John Lewis," said Chism. "Ten months later, she was murdered by the Klan for registering blacks to vote. I was five years old. This weekend, I am going to march to Springfield, Illinois to pay homage to my great-grandmother and her activism by fighting for a budget that provides good jobs, support for our communities and protection for the environment."

Chism speaks at the May 15 Chicago kickoff rally for the March to Springfield.
A 200-mile journey to Illinois' capital, launched in Chicago on May 15, the March to Springfield is meant to draw attention to the impact of the budget crisis on everyday people's lives. Marchers, who are stopping in cities along the way for "listening sessions" with local residents, are championing a "People and Planet First Budget" that invests in single payer/Medicare for all healthcare, good jobs, world class public education, free public higher education, safe infrastructure, and green energy. Funding, say the marchers, can come from closing corporate tax loopholes, raising taxes on higher income earners, and enacting a financial transaction tax ("LaSalle Tax") on Chicago's commodities exchange.
Too many people are suffering in the state of Illinois. Poverty, and the lack of opportunities have taken their toll," said Chism. "Last year, more than several hundred people died from gun violence. Two of those lost were my [family members]. That's why I march."
"I worked for 8 years in the dialysis unit at [John H. Stroger Hospital of Cook County]," Chism continued. "Many dialysis patients end up in kidney failure because they don't have access to the basic healthcare they need; that's why I'm marching, to create universal, single payer healthcare in Illinois. I want to come together with everyone across the state to win a people and planet first budget. "
"This is not a political game. This is a crisis," agreed Chicago-area RN JoAnn Lingle, who did around 10 miles of the March to Springfield earlier in the month, inspired by the need for single payer healthcare. "Lives are at stake."

RNs Lingle (L) and Chism with a photo of Chism's great-grandmother, a civil rights activist killed by the Klan for registering blacks to vote. Chism carries on a family tradition of activism and marches in honor of her great-grandmother.
Standing up for public health is a vow on which they will always take action, say nurses, everywhere they go.
"We're going to keep fighting for what we need, what will make our communities more healthy," said Lingle. "I believe change has to be from the grassroots up, nothing happens from top down. So we will keep on marching."
Marchers will arrive in Springfield, May 30 at 10:30 a.m., to march the last half mile from the old state capital building to the capital, where hundreds will rally, lobby and hold a People's General Assembly to do what the General Assembly hasn't done in two years: pass a People and Planet First Budget. For more information about the march and how to get involved, visit marchtospringfield.org