Blog
National Nurses United Petitions Federal OSHA for Workplace Violence Prevention Standard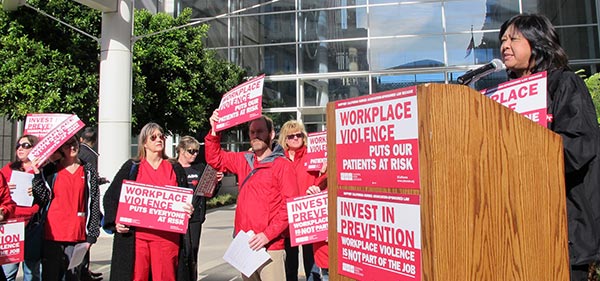 The tragic death of NNU member Cynthia Palomata, RN, in 2010—as a result of preventable workplace violence—was a galvanizing moment. With renewed urgency in the effort to protect registered nurses and healthcare workers, in 2014, NNU won comprehensive legislation in California, requiring all hospitals to have a workplace violence prevention plan.
Now, NNU is leading the fight to secure those protections in every state.
In light of a growing national epidemic of workplace violence against registered nurses and healthcare workers, NNU is petitioning the federal Occupational Safety and Health Administration (OSHA) for a formal workplace violence prevention standard.
"As things stand, nurses cannot keep their patients safe if they cannot guarantee their own personal safety, and it is past time for OSHA to mandate that healthcare employers create comprehensive prevention plans to stop violence before it happens," said Bonnie Castillo, NNU Director of Health and Safety. "Workers and their unions have the right to petition OSHA to promulgate that protective standard. We urge OSHA to accept this petition and to enter rule making immediately."
Workers in the healthcare industry face extremely high rates of workplace violence. In 2013, the U.S. Bureau of Labor Statistics (BLS) estimated that healthcare workers experience workplace violence at rates 5 to 12 times higher than for workers overall. And the rates are on the rise; between 2005 and 2014, rates of workplace violence incidents have increased 110% in private industry hospitals.
These statistics illustrate, say nurses, that existing OSHA efforts have proven inadequate to address the life-threatening problem of workplace violence for registered nurses and other healthcare workers.
The OSHA workplace violence petition submitted by NNU includes many of the provisions and protections that NNU won in the 2014 Workplace Violence Prevention legislation in California (SB 1299, Padilla), the legislation won in Minnesota in 2015, and the legislation recently introduced in Massachusetts. California's mandatory workplace violence regulations, requiring hospitals to have a facility-specific prevention plan, will be fully finalized within the next few months.
"This petition has an expansive scope, like the proposed California regulations—so it includes general acute care hospitals, psychiatric hospitals, nursing homes and long-term care facilities, home care and other field work, mental health treatment centers, and others—everywhere healthcare workers are at risk," said Castillo.
Other key aspects of the petition include:
A thorough assessment by OSHA of workplace violence risk factors, including staffing levels—and the implementation of prevention measures.
A comprehensive workplace violence prevention program that is implemented at all times, in all units and work areas and on all facility grounds, including parking structures.
Interactive training.
Post-incident response (including first aid, trauma counseling, and injury investigation procedures).
Employee participation in plan creation and review.
A prohibition on retaliation against an employee for seeking law enforcement assistance during an incident.
"Workplace violence is absolutely preventable," said Castillo. "We cannot stand by while one more nurse or healthcare worker is injured, or killed on the job. This petition says the wellbeing of all nurses and healthcare workers must be mandated at the federal level—and it must be mandated now."