Blog
HURRICANE SANDY: Help New York Nurses and Patients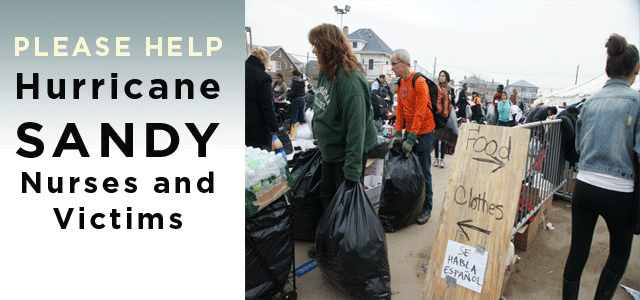 Hurricane Sandy has left a path of devastation in New York and surrounding communities in the Tri-State area, where 670,000 homes and businesses remain without electricity.
The enduring effects include:
Thousands of people, among them nurses, who have been uprooted from flooded homes and forced to seek shelter.
Evacuations of several thousand patients from hospitals and nursing homes that experienced dangerous flooding. Many patients relocated to hospitals and temporary accommodations  distant from family and support systems.
Closures continue at many hospitals that serve the most vulnerable patient populations. These hospitals have provided essential services in New York's public safety net system.
Thousands who are without jobs as a result of employers whose businesses have been disrupted by the storm's destruction.
Many nurses who lost their homes, or suffered in other ways, are still on the job, caring for their patients!
Through Registered Nurse Response Network (RNRN), NNU is reaching out to support New York-area nurses who are on the front lines of the response to Hurricane Sandy, taking heroic measures to care for their patients.
RNRN sent a team of experts who coordinated the unprecedented RN response to the disasters of Hurricane Katrina and the Haitian Earthquake.  They will be working with NNU nurses from the Veterans Administration and the New York State Nurses Association (NYSNA) who have been deployed to provide disaster relief to the communities most affected
How you can help these same caregivers and the patients they serve:
Contribute to the RNRN fund established to support disaster relief services
To donate by mail: Make checks payable to CNF/RNRN and mail them to: CNF/RNRN, 2000 Franklin St. Oakland, CA 94612.
Volunteer to help in one of the disaster relief locations providing first aid and public health services.
RNRN Disaster Relief Fund: National Nurses United and the Registered Nurse Response Network (RNRN) work to send nurses to disaster stricken areas both inside the U.S. and internationally. Please complete this secure donation form and share it with friends to ensure that RNs are among the first responders. RNRN is a project of the NNU and the California Nurses Foundation, a 501(c)(3) nonprofit. Donations are secure, and tax-deductible to the extent of the law.
Thank you,
California Nurses Foundation
Registered Nurse Response Network
2000 Franklin St.
Oakland, CA 94612
###
Please share this page with friends and social networks using the links below.