Blog
Florida Medical Center RNs, Supporters Hold Informational Picket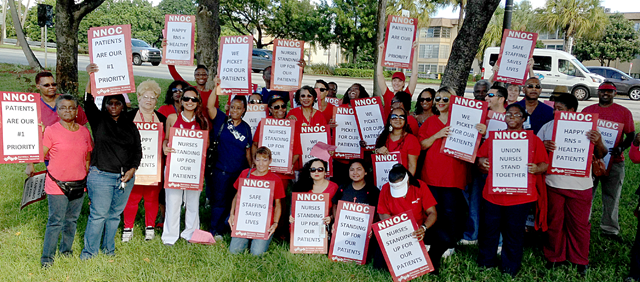 Over 80 nurses and community activists came together today at Florida Medical Center (FMC) in Lauderdale Lakes, Fla., calling on the hospital to maintain consistent optimum staffing levels and to provide the best possible care for the community.
 

"It was exhilarating to join with a large and spirited group of RNs and supporters rallying at FMC, standing up for patients, and for decent conditions for the hospital staff," said Bob Bender, from the Unitarian Universalist Church of Ft. Lauderdale Social Justice Group. "It's important for members of the general, faith, activist, labor and professional communities to work together in solidarity for decent wages, working conditions and services—and for hospitals to implement their own desired ratios of nurses to patients."
 
Gillian Edwards, RN, from nearby Palmetto General Hospital (PGH), joined the FMC nurses on the picket line.

"PGH and FMC are sister facilities. We are battling for the same issues for our nurses. FMC's fight is our fight, their victory is our victory, and when nurses from FMC asked that we show up for their informational picket, we did because we are family," said Edwards.
 
"This informational picket is about protecting the patients by calling on the hospital to maintain a working ratios of nurses to patients. This is why I am here because I care about patient safety," said Mary Lin Montalvo, RN, of FMC.