Blog
All Aboard the Healthcare Express! Medicare for All Bus Tour 2012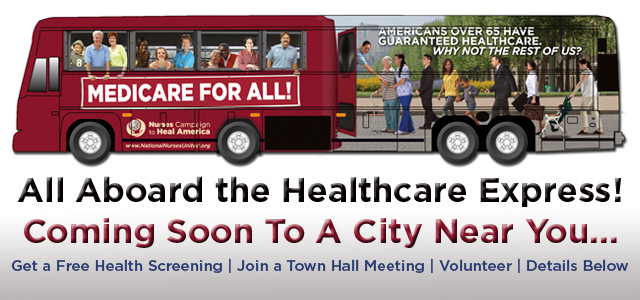 There's Still Time to Volunteer and Join the Medicare for All Tour 2012!
What happens if the U.S. Supreme Court rules that "ObamaCare" is unconstitutional? If the Court upholds it, is this the best we can do? ObamaCare, RomneyCare, what about our care?
Now is the time to protect, improve, and expand Medicare — let's build support now for Medicare for All!
At each stop, we'll have a health screening from 3-6pm and a town hall meeting beginning at 6:30pm. 
By reaching out to seniors and community members who have been hurt by unemployment, foreclosure, declining health coverage, and scarce treatment options, we aim to both serve and educate people. That's why we need your help.
If you would like to volunteer some time to conduct basic screenings, meet your neighbors and help NNU build the national case for universal coverage, please sign up here and we'll contact you with more information!
To help CNA/NNU build a national case for universal healthcare coverage, please visit www.NursesHealAmerica.org.
Get the Bus Tour 2012 PDF flyer.
Visit our Facebook Events page to learn about any of these dates.
Cali Tour 2012 Dates & Cities:
Date
City
Flyer
Spanish
Flyer
Location
June 19
San Diego

St. Paul's Cathedral 4 The City

2728 6th Ave, San Diego

June 20
Santa Ana

The Delhi Center

505 E. Central Ave., Santa Ana

June 21
San Bernadino

First Congregational United Church of Christ

3041 N. Sierra Way, San Bernardino

June 22
Bakersfield

Kern, Inyo and Mono Counties CLC

200 West Jeffrey St., Bakersfield

June 25
Fresno

CWA Hall

4422 E. Ashlan Ave, Fresno

June 26
Modesto

College Ave Congregational

1341 College Ave, Modesto

June 27
Stockton

First Unitarian Universalist Church of Stockton

2737 Pacific Avenue, Stockton

June 28
Chico
Health Screening: City Plaza at 5th and Main Sts., Chico
Town Hall: City Council building, 411 Main St., Chico
June 29
San Rafael

San Rafael Community Center

618 B Street, San Rafael

July 2
San Jose

Eastside Neighborhood Center

2150 Alum Rock Ave, San Jose

July 3
Oakland

Alameda County Administration Building

1221 Oak Street, Oakland

July 4
San Francisco
10am: Alameda City Parade     
1pm: Dolores Park
5pm: Pier 39
6pm: Crissy Field
July 5
Santa Cruz

Louden Nelson Community Center

301 Center St., Santa Cruz

July 6
San Luis Obispo

Ludwick Community Center

864 Santa Rosa St., San Luis Obispo

July 8

9:30am – 4pm

UCLA Ackerman Union Grand Ballroom

308 Westwood Plaza, LA

July 9
Glendale

Pacific Community Center

501 S. Pacific Ave., Glendale

July 10
South Los Angeles

S.C.O.P.E. Office

1715 W. Florence Ave., L.A.

July 11
Santa Monica

Unitarian Universalist Community Church of Santa Monica

1260 Eighteenth Street, Santa Monica

July 12
West Covina
West Covina City Hall

1444 W Garvey Avenue South, West Covina
RNs click here to volunteer to conduct free health screenings
Please SHARE THIS PAGE and visit our Facebook Events page to learn more about any of these dates!