UC nurses ratify new contract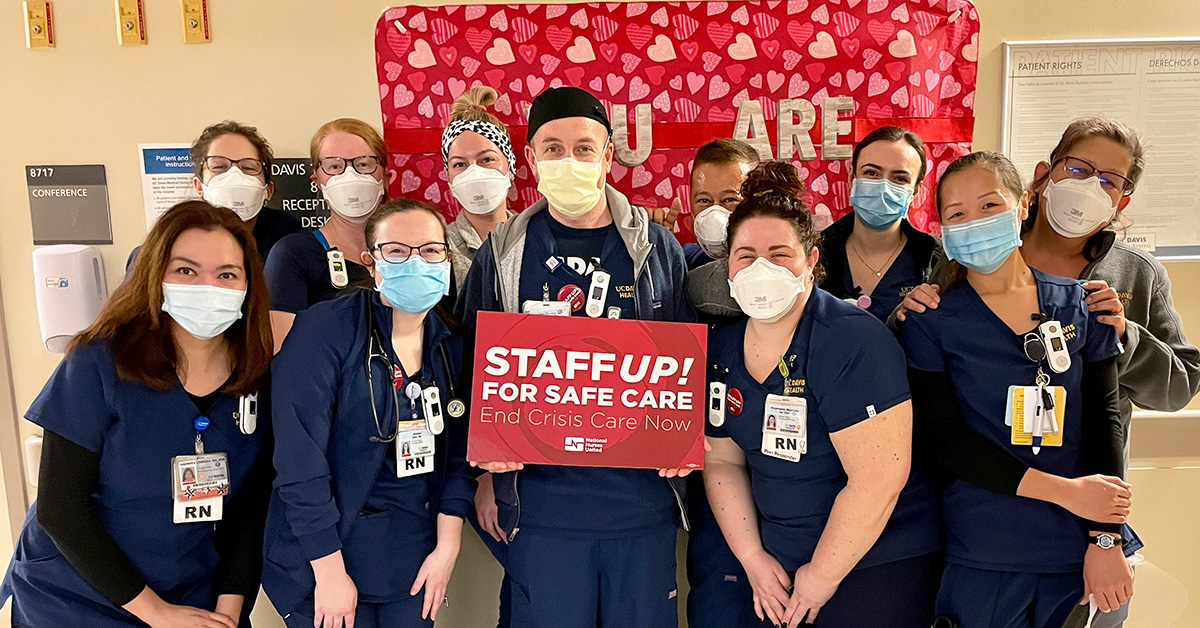 By Lucy Diavolo
National Nurse Magazine - July | Aug | Sept 2022 Issue
Registered nurses at University of California (UC) facilities across the state voted overwhelmingly in July in favor of ratifying a new three-year contract. The new agreement addresses key patient care and workplace safety issues while focusing resources to recognize, recruit, and retain nurses across facilities in the UC system.
California Nurses Association/National Nurses United represents approximately 18,000 nurses across the UC system. The new agreement covers nurses who work at medical centers connected to UC San Diego, UC San Francisco, UC Davis, UC Irvine, UCLA, UC Merced, UC Berkeley, UC Santa Cruz, UC Santa Barbara, and UC Riverside.
 
"UC nurses are proud to ratify our new contract with the University," said Dahlia Tayag, an RN and bargaining team member who works at UC San Diego. "This agreement recognizes and rewards registered nurses for our service and commitment to our patients and communities across the UC system, especially during the Covid-19 pandemic."
"UC nurses have been preparing for these negotiations and we were committed to winning the contract our members deserved," continued Tayag. "The administration's decision to prioritize investing in UC nurses resulted in this successor agreement, which will improve the patient care we provide."
 
Highlights of the contract include improvements to patient care, workplace safety, and union rights, including protections from potential subcontracting of RN work. The nurses won benefits improvements, including eight weeks of fully paid Family Care and Bonding leave and Juneteenth recognized as a holiday.
The new agreement also creates two committees focused on key system-wide issues: one on health, safety, and emerging infectious diseases and another on diversity, equity, and inclusion.
The nurses won minimum across-the-board wage increases of 16 percent over the term of the agreement and additional increases for UC San Diego and UC Irvine, which reduces regional wage disparity across the UC system.
"Nurses have been leaders throughout this pandemic," said Tayag, who is also a member of the CNA Board of Directors. "With our new union contract, we have made major improvements for patient care, workplace safety, and union rights. This sets a new standard for RN contracts in California and beyond."
---
Lucy Diavolo is a communications specialist at California Nurses Association/National Nurses United.