Huge win for Chicago nurses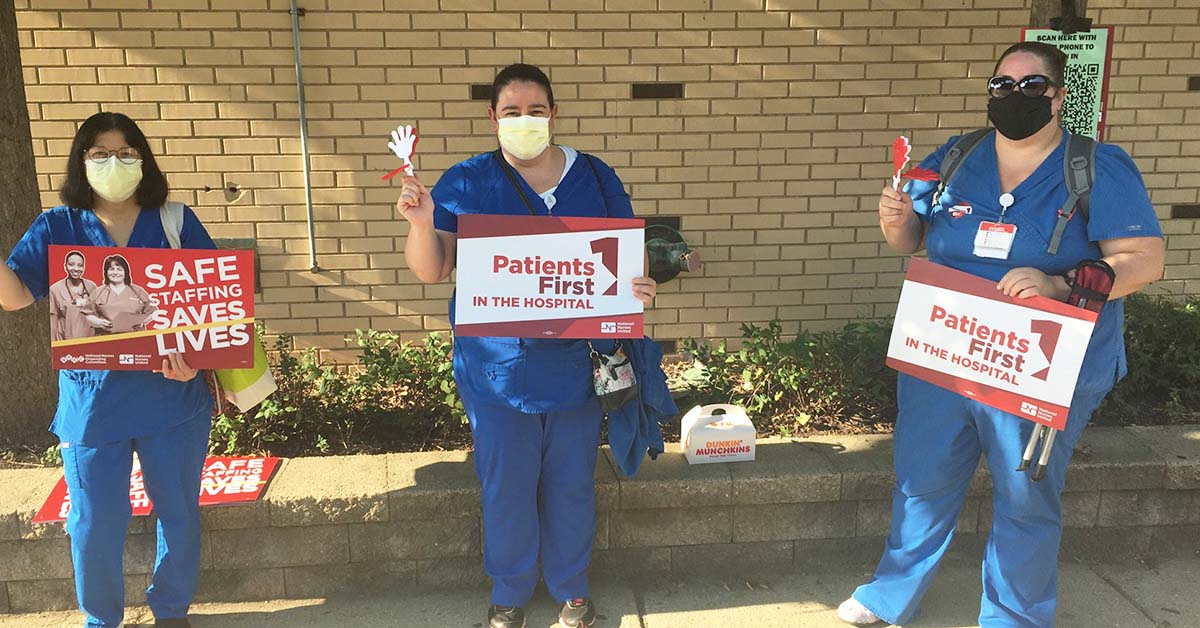 RNs at Community First ratify first contract
By Rachel Berger
National Nurse Magazine - October | November | December 2021 Issue
Registered nurses at Community First Medical Center in Chicago were proud to ratify their first union contract at the end of October, less than a week after they announced they had reached a tentative agreement.
The ratification of the two-year contract, with strong protections for patients and nurses, came just days after registered nurses issued a strike notice. The planned three-day strike was averted.
"We are absolutely thrilled to have reached this agreement, and we know that it will help us recruit and retain experienced nurses," said Kathy Haff, a registered nurse in the emergency department. "This was a long fight. We are so proud of how all the nurses came together to win so many important protections that will help us provide the safe patient care people in our community deserve."
Under the new contract, nurses will receive wage increases averaging 17 percent over the term of the contract. To address economic justice issues, this contract moves all RNs to a pay scale based on the number of years of nursing experience.
Contract highlights include health and safety provisions to ensure personal protective equipment when caring for confirmed and suspected Covid-19 patients and the creation of nurse-run committees to strengthen advocacy for patients and to address staffing, workplace safety, and other issues impacting safe patient care conditions. The agreement includes restrictions to prevent nurses from being floated to units where they lack the training or clinical expertise to care for the patients.
The ratified pact also includes expanded tuition reimbursement and paid education leave for nurses and the hospital's agreement to invest more in security, supplies, and equipment.
Nurses say these highlights and other important contract features will have a long-lasting, positive impact on the community.
"Providing high-quality care for our patients throughout this pandemic has been incredibly challenging," said Patricia Ryan, RN. "The new contract, with its emphasis on safety protections and the creation of a pathway for continued dialogue between nurses and management, will go a long way toward improving the care we can give our patients and our ability to attract and retain experienced nurses."
The RNs had voted by a margin of more than 90 percent to join National Nurses Organizing Committee in December 2019.
---
Rachel Burger is a communications specialist at National Nurses United.