Press Release
Statewide Canvasses for SB 562, Medicare-for-All, Continue Sat. Aug. 26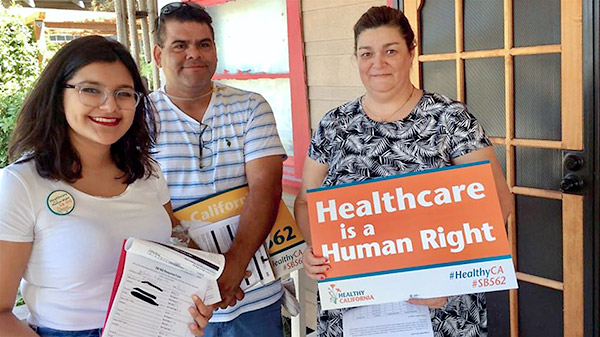 "Speaker Rendon has avoided an actual single payer bill with a select committee. What he can't avoid is a grassroots movement knocking on every door in his district."
The California Nurses Association (CNA), Healthy California campaign, Our Revolution and #KnockEveryDoor will be canvassing in California district 63—the district of Assembly Speaker Anthony Rendon—this Saturday, as well as in district 57 (Assemblymember Ian Calderon) and district 21 (Assemblymember Adam Gray) to engage community members with the campaign for S.B. 562, legislation to win guaranteed healthcare for all California residents.
Saturday's canvass, part of a series of statewide canvasses launched August 19, comes on the heels of a recent announcement that Speaker Rendon will hold hearings with a select committee to discuss universal healthcare—a move S.B. 562 supporters say is a meaningless attempt, in the face of public pressure, to appear supportive while dodging actual action on single payer legislation.
"It is seriously concerning to nurses and our allies that Speaker Rendon is choosing to avoid an actual single payer bill with a select committee," said Bonnie Castillo, RN, associate executive director of CNA. "What Speaker Rendon cannot avoid is a grassroots coalition knocking on every door in his district this weekend to talk with constituents about how anything short of real action on single payer legislation, by moving S.B. 562 forward, leaves California patients' health and safety hanging in the balance."
What: Canvassing for S.B. 562
Stanislaus County - Patterson, District 21 (Assemblymember Adam Gray)
LA County - Whittier, District 57 (Assemblymember Ian Calderon)
LA County - Paramount, District 63 (Assembly Speaker Anthony Rendon)
When: Saturday, August 26
"We are committed to building this movement for guaranteed healthcare door to door, conversation by conversation, as we hold our elected officials accountable to their constituents," said Los Angeles-area RN and CNA board member Fong Chuu. "The people of California expect our elected officials to take a strong position of support for S.B. 562—and to do it now. This bill cannot wait because our patients, the people of California, are suffering from lack of access to healthcare."
"Our Revolution is excited to work with grassroots activists across California on this campaign. We can't wait till the next election to start organizing in our communities. We need to go door to door now!" said Nina Turner, president of Our Revolution. "A majority of Californians support Medicare for all and through this effort, will call on the super majority of Democrats to do the right thing and take decisive action on behalf of the people.  We have a real opportunity to solve the health care crisis in California and lead the way for the nation with the passage of S.B. 562."
The statewide organizing effort, which began with canvassing August 19 and 20 in Whittier, District 57 (Assemblymember Ian Calderon); Sylmar, District 39 (Assemblymember Raul Bocanegra); and District 2 (Assemblymember Jim Wood), will also include a series of town hall meetings throughout the state, beginning next month, as well as ongoing legislative visits.