Press Release
Nurses Announce Tentative Pact with Sutter Mills-Peninsula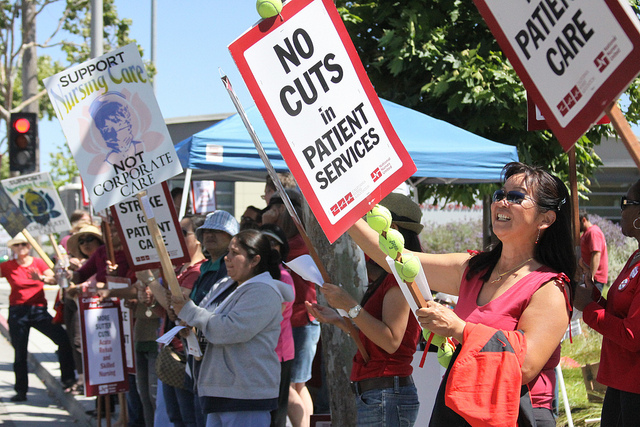 Strong Message to Hard Line Stance by Other Sutter Hospitals

Registered nurses have reached a tentative agreement on a new collective bargaining contract with Mills-Peninsula Health Services, the California Nurses Association/National Nurses United announced today.

The settlement, concluded late Tuesday, must still be ratified by the nurses in membership meetings expected to be held next week. CNA represents some 750 RNs in the health system, which has facilities in Burlingame and San Mateo.

Key to the two-year agreement was the decision by local hospital officials to withdraw more than three dozen substantial reductions in patient care protections and nurses' economic and contract standards, as well as improvements in safe staffing, the RNs said.

"The unity and determination of the Mills Peninsula RNs over the past 16 months has led to a tentative agreement and great victory," said Genel Morgan, RN at the Peninsula campus.  "We prevailed with our solidarity and willingness to fight for our practice and our patients."

With the settlement, Mills-Peninsula breaks the pattern of other Bay Area Sutter hospitals that continue to demand more than 100 contract takeaways, a hard line stance that has prompted Sutter nurses to hold five short term walkouts in the past year.  Mills-Peninsula now becomes the latest Sutter Bay Area CNA-represented facility, to reach an agreement with the RNs, joining Sutter Santa Rosa, Sutter Lakeside in Lakeport, and Sutter VNA of Santa Cruz.

CNA said today that excuses for continuing the war on nurses and patients by Sutter corporate officials, in a system that has made over $4 billion in profits since 2005, and by other Sutter hospitals are running out.

Mills-Peninsula RNs said they were especially pleased to see administrators abandon a proposal which would have forced RNs who are sick for more than a week to utilize a short term disability program that, when combined with state funded disability, would provide only a fraction of a nurse's salary.  Sick leave and a slight variation of this short term disability proposal have been key sticking points at other Sutter hospitals, especially Alta Bates Summit Medical Center in the East Bay.
 
Among the many other cuts dropped by Mills-Peninsula management were demands for a number of reductions that affect RN compensation, limits in time off for medical and pregnancy leaves, and limiting staff nurse participation on hospital committees.
 
The RNs cited advancements regarding processing of issues under the contract's grievance procedure, greater staffing flexibility, and improved language to enhance staffing based on patient acuities. On pay, the RNs will receive modest across the board increases of 4 percent over the next two years.