Body
Why Caregiver and Healthcare Employees want CHEU
The Caregivers Union is an independent union formed in 2001 by hospital employees to win strong union representation, better benefits and improved conditions for employees and patients. Caregivers Union is an affiliate of the National Nurses Organizing Committee (NNOC/CNA).
---
Kindred San Gabriel Valley Healthcare Workers Celebrate Landslide Victory With CHEU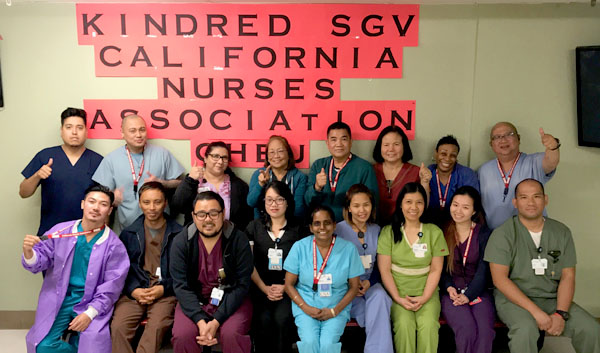 Hospital workers at Kindred Hospital-San Gabriel by over 90% percent to unionize with the Caregivers and Healthcare Employees Union (CHEU), an affiliate of the California Nurses Association.
---
RNs and Techs United!
Principles and Mission:
Unity and solidarity in representation, bargaining, and political defense of public healthcare
Member involvement
Independence from management
Passionate advocacy for healthcare justice
Caregivers and Healthcare Employees' Union Officers
President: Melroy Green
Vice President: Pacita Balcom
Secretary-Treasurer: Joseph Robinson
Executive Board Members At Large:
Sue Bray
Herminia Filares
Rosario Hernandez
Facility Executive Board Representatives:
Alta Bates Summit: Manjit Plahey
Palomar-Pomerado: Maria Perez
San Gabriel: Mary Sanchez
CHEU Facilities and Updates:
CHEU - Alta Bates Summit Medical Center:
CHEU - Glendale Memorial:
CHEU - Kindred Hospital-Baldwin Park:
CHEU - Kindred San Gabriel Valley:
CHEU - Childrens Hospital Oakland:
CHEU - Palomar:
CHEU - San Gabriel Valley Medical Center:
---