Press Release
Watsonville RNs Set Three Day Strike August 14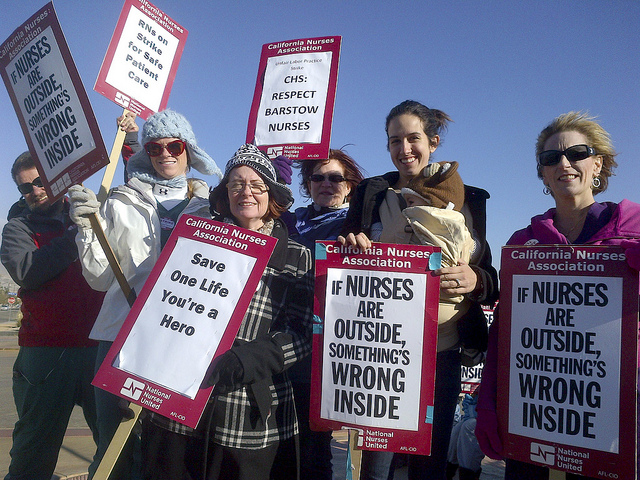 Registered nurses at Watsonville Community Hospital will hold a three strike beginning Thursday, August 14 in the latest protest against demands by hospital executive for sharp reductions in health coverage, and the hospital's refusal to address concerns about patient care conditions, especially safe staffing.
 
The California Nurses Association/National Nurses United represents the Watsonville RNs who previously held a one-day strike in December.
 
"We raise serious concerns about safe staffing and clinical practices but we receive no serious response.  We are talking about patients' lives," said Roseann Farris, a critical care RN at Watsonville. "We need to take this action in order for the hospital to take our concerns seriously."
 
The strike is at Watsonville Community Hospital, 75 Nielson St., Watsonville. The strike ends Sunday morning, August 17.
 
The strike coincides with one-day walkouts occurring August 14 at two other hospitals where RNs are also represented by CNA, Sutter Tracy Community Hospital in Tracy and Queen of the Valley Medical Center in Napa.
 
At Watsonville, nurses say relations with hospital officials have been aggravated by a hard line pushed by corporate executives at Tennessee-based Community Health Systems which now operates the former locally owned and operated hospital in Watsonville.  
 
Federal courts and the federal National Labor Relations Board around the country have repeatedly sanctioned CHS hospitals for violations of labor law and infringements on the rights of RNs.
 
At Watsonville, CNA has filed unfair labor practices charges with the NLRB over the hospital's overly broad restrictions on the democratic right of RNs to communicate with each other and the public through social media and other forms.
 
A central concern, say Watsonville RNs, is what they view as the hospital's stance in stifling the voice of the RNs in patient care and safe staffing issues. Hospital negotiators have refused to consider RN proposals for fair resolution of unresolved staffing, patient care, and other nursing practice issues. The hospital also rejected language to assure implementation of safe practices for lifting patients to prevent patient falls and accidents and injuries to nurses, as well as other patient care proposals by the RNs.
 
CNA/NNU sees the actions of Watsonville management as part of a national pattern of hostility to nurses and their democratically elected union by CHS, the largest for-profit hospital chain in the U.S. with 206 hospitals.
 
In addition to a series of federal court injunctions, and indictments by the federal labor board for illegal harassment of RNs and other illegal actions, CHS is also under investigation by several federal and state agencies, including the United States Department of Justice over allegations of Medicare and Medicaid fraud by whistleblowers.
 
Just today, CHS agree to pay an $88 million fine in a settlement of the federal Medicare fraud investigations and another $900,000 in a Medicaid settlement.
 
CHS has also been criticized by patient advocacy groups for its aggressive collection practices for patients who have been unable to pay the cost of CHS's high hospital costs.
 
Over the past five years, CHS reported over $1.5 billion in profits to the Securities and Exchange Commission. CHS CEO Wayne Smith piled up $21.5 million in total compensation in 2011, according to the AFL-CIO Executive Pay Watch project.