Press Release
Tuesday - Robin Hood Fair, March and Call for Support at Oakland City Council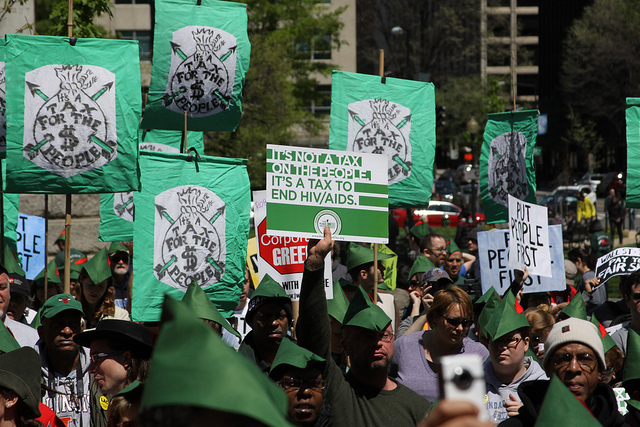 Nurses and Community Partners in Day-Long Effort in Support of Robin Hood Tax
Call for Support of HR 1579 and Oakland City Council Resolution to Tax Wall Street, Raise Revenue for Main Street Recovery and Bring a Halt to Austerity
 
The California Nurses Association (CNA), together with community partners, will host a Robin Hood Fair outside Oakland City Hall on Tuesday, May 21 at 12 noon in support of the Robin Hood Tax, whose goal is to bring a real recovery to Main Street and to end climate change and HIV/AIDS.
 
The Robin Hood Tax is embodied in the Inclusive Prosperity Act, H.R. 1579, reintroduced in Congress last month by Rep. Keith Ellison (D-MN).  For details see www.robinhoodtax.org.
 
"H.R. 1579 is key to a real recovery and Oakland and around the country. It is a small sales tax on Wall Street transactions that would raise $350 billion a year to fund jobs and pay for quality healthcare and education, clean our environment, rebuild infrastructure and secure retirement for all," said Deborah Burger, RN, co-president of CNA.
 
"Communities like Oakland were left out of the recovery after the financial collapse of 2008.  Banks got trillions of tax dollars, but millions of Americans suffered serious harm.  That harm continues today."  
 
The revenue from the Ellison bill would also allow the U.S. to step up funding for international research and treatment of HIV/AIDS and to address climate change, said Burger. Robin Hood supporters – including more than 150 endorsing organizations with millions of members nationwide, are calling upon government to end sequestration, support Medicare, Medicaid and Social Security and stop all efforts to impose austerity and cut social services.
 
WHAT:  Fair, March and Speak in Support of Oakland's Robin Hood Tax Resolution
WHEN:  Tuesday, May 21:  Fair @ Noon; March @ 4p; City Council @ 6p.
WHERE:  Fair to start @ 15th and Clay – between City Hall and 250 Frank Ogawa Plaza;

March to local banks and to City Hall; Speak in support of Robin Hood Tax Resolution at City Hall 3rd floor
 
Festivities at the Robin Hood Fair on Tuesday will highlight how Wall Street tax dollars can fund a real recovery in Oakland and elsewhere.  Later that day, Robin Hood and supporters will take their message in a march to local banks and back to City Hall, where at 6p they will speak in support of an Oakland City Council Resolution backing the Robin Hood Tax, H.R. 1579.