Press Release
Tri City Healthcare District RNs to Hold Press Conference, Rally to Highlight Misuse of Public Funds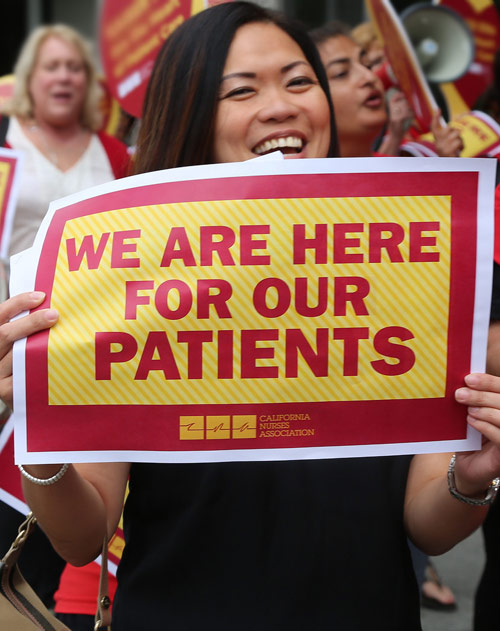 Registered nurses of north San Diego County's Tri City Healthcare district will hold a press conference and rally ahead of the Tri City Healthcare Board meeting this Thursday, August 31, to highlight safe staffing and patient care issues, including excessive budgeting for traveling nurses from outside of the region, the California Nurses Association announced today.
Tri City RNs, who have been fighting for improved staffing and safer patient care, describe excessive turnover—nearly 300 RNs in the past two years—and trouble with recruitment/retention of experienced RNs, as management fails to address nurses' serious concerns, and instead fills open positions with nurses from other regions and states. The board recently voted to approve a budget of millions of dollars for traveling and temporary nurses, a move nurses say illustrates misguided priorities and a lack of loyalty and respect to RNs who live, work and vote in the district, many of whom have given years of dedicated service to their community and their patients.
"We are hemorrhaging our experienced nurses, who are employees of the district. Tri City has become a training ground," said RN Brenda Ham, who has worked at Tri City Medical Center for 35 years. "Staff nurses say that precious resources are leaving the district every time a nurse leaves due to the hospital not listening to our concerns."
WHAT: Nurse Press Conference/Rally for Safe Patient Care
WHEN: Thursday, August 31, 2:30p.m.
WHERE: Tri City Medical Center 4002 Vista Way, Oceanside CA
(grass area to the east of the hospital's main lobby entrance)
Earlier this year, nurses say they presented compelling evidence to hospital administration about safety concerns due to attrition of experienced RNs. Nurses have also reported unsafe workplace hazards to the Occupational Safety and Health Administration (OSHA), regarding issues such as the assault and injury of several nurses due to what nurses say is inadequate security in Tri City Medical Center's behavioral health and crisis stabilization units.
With management's failure to address these concerns, nurses say they have no choice but to join together and speak out on Thursday, to let the board and wider community know that, according to RN Venetia Ramsey, "hospital executives are placing patients at risk."
"It is time that Tri City Hospital repays the loyalty its nurses have given to patients and to the organization over the years, especially its most experienced nurses," said RN Chris Hart.
California Assemblywoman Lorena Gonzalez Fletcher, whose mother worked as a registered nurse at Tri City Medical Center has issued a statement in support of the district nurses and joined in calling for nurses to be prioritized.
"I grew up just down the street," said Fletcher. "My mother was a registered nurse here for 40 years. She would be so proud of the nurses at Tri City for using their voices to protect the community."
"Our patients in this community deserve better than temporary caregivers at the bedside," said Ramsey. "The time is now for Tri City to value our patients, to stop squandering away precious public funds and to help end the hemorrhaging of our community's experienced registered nurses."