Press Release
Third National Nurses Group to Deploy to Philippines for Typhoon Haiyan Relief Effort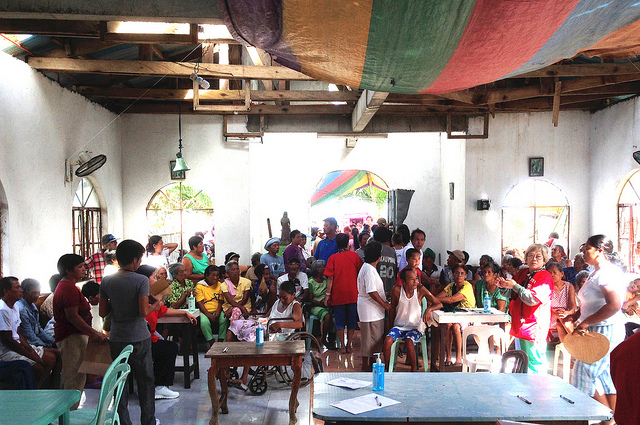 The Nurses' Gift of Healing for the Holidays
RN Volunteers Set Up Mobile Clinic in Roxas City
As many American families prepare to celebrate Thanksgiving this week, a number of registered nurses are offering their own gift of healing for the holidays – by volunteering to deploy to the Philippines to provide medical support for those affected by the Super Typhoon Haiyan/Yolanda.
A third team of registered nurse volunteers, part of the National Nurses United's Registered Nurse Response Network, is preparing to depart to the Philippines later this week, even as a second team that arrived on the ground Monday is setting up mobile clinics in in Roxas City on northern end of the island of Panay, which was in the direct path of the storm.
Team three – which is spending this holiday week packing, getting vaccinations, and making other preparations before flying out at week's end – includes RNs from Florida, Washington DC, Michigan, and California. They will link up with RNs from the second deployment from California, New York, Nevada, and Michigan who are presently on the ground.
To date 3,000 RNs from all 50 states and 19 nations have volunteered to assist with the relief project for Haiyan/Yolanda.
NNU, which intends to continue sending RNs to the Philippines long after the world's spotlight has faded, is inviting the public to contribute to the effort.
"I cry for my people.  I cannot watch the devastation on television anymore, I have to be there to help," says Girlie Garnados, RN of Port Richie, Fl., a Filipina-American who is part of the third delegation leaving later this week.
 
"As nurses, we reach out to those who are sick and injured," said Gandeza Orteza, RN of Burtonsville, Md. "I am eager to join the RN Response Network effort to help the people and communities devastated by the terrible storm in the Philippines."   
 
Garnados, Burtonsville and the others departing this week will join with RNRN volunteers who arrived Monday. They are already at work providing basic medical care at rotating mobile clinics in Barangays (districts or neighborhoods) around Roxas City including in a ruined chapel, a local gym and other sites, in conjunction with local public health officials, physicians, a church and other community supporters.
In the first day of the mobile clinic's operation earlier this week, 300 residents lined up for a variety of medical care. RNRN members assessed and treated injuries and illnesses, provided wound care, gave tetanus and other shots, and other medical intervention
 
"People have lost their homes, lost their livelihood. They need medical care. They lack medicine, lack nurses, lack doctors. In each area we go to this is their plea, to help with medications and medical assistance," said Joseph Catindig, RN, who returned this past weekend from his RNRN deployment.
 
"It was apocalyptic," Michelle Vo, RN, another RNRN volunteer who has been on the ground said. "We tried to concentrate on devastated areas that were not publicized. Tacloban City is only a little piece of the devastation. People were bringing in their children with fever, cough, pneumonia, malnutrition and dehydration. And the parents were just as sick, if not more."
"They are asking for help. We're communicating with the whole the world for them, back home. They are not alone. We're telling them about all the nurses that have signed up to help. They are a strong people; they know they can rebuild," said Vo. 
 
RNRN, a project of National Nurses United, the nation's largest organization of RNs, was formed in 2004 in the aftermath of the South Asia tsunami in 2004, when the need for nurses was not being met by traditional disaster relief organizations.  Since that time RNRN has send hundreds of direct-care nurse volunteers to assist following Hurricane Katrina, the massive earthquake in Haiti, and Hurricane Sandy.