Press Release
St. Rose Nurses To Protest Layoffs, Attacks on RNs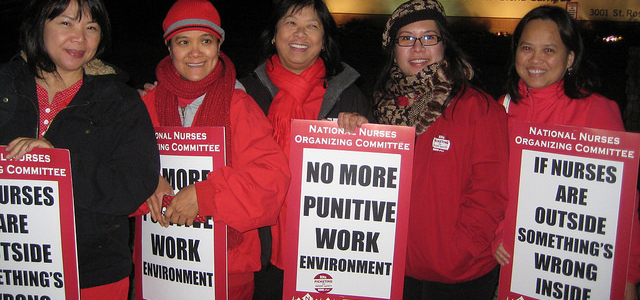 Registered nurses at St. Rose Dominican hospitals around Las Vegas held a picket Tuesday evening to protest demands by hospital officials for cuts in RN positions, and other concerns that they say is having an adverse effect on nurses and the healing environment in St. Rose hospitals.
St. Rose recently announced plans to cut some 25 positions in what RNs warn is likely to be a prelude to broader reductions in patient care services that will affect all Las Vegas area patients served by St. Rose facilities. National Nurses Organizing Committee-Nevada, an affiliate of National Nurses United, the largest U.S. organization of RNs, represents some 1,400 RNs at the three facilities.
What:             St. Rose RNs' protest
When:             Tuesday February 4, 6 p.m. to 8 p.m.
Where:           St. Rose Dominican – Siena, 3001 St. Rose Parkway Trail, Henderson 
The most immediate cuts target case managers and what is known as a "float pool," RNs who work in various areas depending on daily patient care needs. Yet while pushing to make those cuts, St. Rose is continuing to actively recruit new RN hires for positions that come without health benefits, which NNOC-Nevada says is one of the hospital's real goals, eroding or eliminating health coverage for many RNs.
 "The benefited float pool consists of individuals with a great amount of experience," says Orsburn Stone, St. Rose RN. "By closing the benefited float they will probably be looking to replace us with inexperience junior RNs—thereby decreasing our level of proficiency of care rendered."
Additionally, says NNOC-Nevada, St. Rose has become increasingly aggressive in stepping up disciplinary punishment for RNs, a form of harassment intended to create an atmosphere of intimidation of nurses. The RNs say they will not stop insisting on their rights or their ability to safely advocate for their patients and their own standards.
The RNs demand a non-punitive working environment that encourages the conditions for excellent patient care.
###