Press Release
San Jose Nurses to Begin Two-Day Strike Thursday Cite Concerns over Safe Staffing, Proposed Pension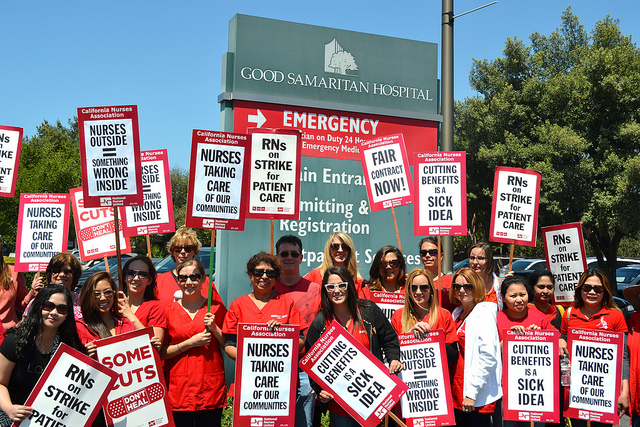 Registered Nurses at Good Samaritan and Regional Medical Center in San Jose have will begin a two-day strike Thursday, May 23, continuing Friday, May 24.

Key issues to protest the refusal of hospital officials to move forward in efforts to end the contract dispute with nurses which centers in large part on proposed elimination of the nurses' pension plan, and concerns about hospital staffing. The 1,400 RNs at the two HCA-affiliated hospitals are represented by the California Nurses Association/National Nurses United.

 "We don't want to strike but we are compelled to do this to maintain community standards,"  Kat Olah, oncology nurse at Good Samaritan Hospital and a member of the RN bargaining team.

"Slashing our benefits is not going to draw and maintain experienced nurses who are committed to this community" Debbie Dennison, Surgical Services RN with over 20 years at Regional Medical Center.  "It will result in more turnover and increased use of temporary staff and that will adversely affect the level of care the hospitals can provide."

Strike begins at 7 a.m. Thursday, May 23, ending 7 a.m. Saturday, May 25

• Good Samaritan Hospital, 2425 Samaritan Drive, San Jose. Rally, Thursday, May 23, 12 noon
• Regional Medical Center, 225 North Jackson Ave San Jose, Rally, Friday, May 24. 11:30 a.m.

The first day of the San Jose walkout coincides with the final day of a seven-day strike by RNs and respiratory, X-ray and other techs at five East Bay hospitals that are part of the Sutter corporation where nurses are also protesting sweeping cuts in contract standards.

In San Jose, RNs say they have made numerous efforts to resolve differences with hospital officials while protecting existing contract standards. Instead of working to settle differences, they say, hospital officials have stalled and refused to move forward.

The RNs say the care they have provided for patients and the community made the hospitals the successful and very profitable institutions that they are, and that they are seeking to preserve standards while insuring that hospital profits are utilized to improve staffing.

Yet hospital officials continue to reject the nurses' proposals for improvements in critical patient protections, such as sufficient staff for incoming patients and charge nurses available to coordinate care.

"Undercutting our ability to compete for the best-qualified nurses by driving down our benefits and rejecting our attempts to enhance staffing is unwarranted," said Good Samaritan RN Lindy Herrera.  "Our contract demands take into account the financial viability of our hospitals and the chain we work for and ensure we can retain and recruit the most qualified nurses to our hospital."

Additionally, the nurses are protesting employer demands to eliminate guaranteed pensions for RNs as well as major cuts in health, dental, and vision care benefits, and wages they say are not competitive with other area hospitals which undermines the ability to recruit new RNs.
View news coverage of the strike:
CBS SF Bay Area
Hundreds Of Nurses Walk Out At Two San Jose Hospitals (Includes video and audio)

Malinda Markowitz RN and co-president of the California Nurses Association/National Nurses United