Press Release
RNs Vote Overwhelmingly to Ratify Agreement With Keck Hospital of USC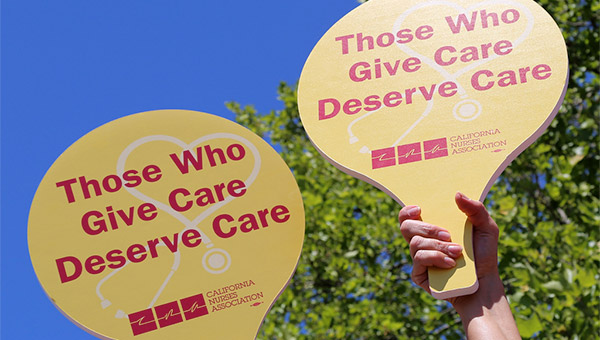 Registered nurses at Keck Hospital of the University of Southern California (USC) and USC Norris Comprehensive Cancer Center, have voted by an overwhelming majority to ratify a new four-year contract, the California Nurses Association/National Nurses United (CNA/NNU) announced today.
The contract, which will cover around 1,110 nurses at the USC facilities, secures important patient protections, helps recruit and retain experienced nurses, and provides critical educational opportunities for nurses.
 
"Our number one job is to advocate for out patients, and we're so proud that we were able to use our collective voice to win an agreement that will benefit patient care in our community for years to come," said Richard Kibler, RN. "With everything that's happening politically, nowadays, having strong worker protections is more important than ever, and this is a big win for nurses and our patients."
Contract highlights include

:
Support for nurses, leading to enhanced patient care. The new contract includes additional "resource nurses," who are scheduled as backup/assistance for RNs in the event of an influx of severely injured or ill patients. Meal and break language also ensures that nurses have adequate rest, critical to reducing the threat of fatigue, which can lead to accidents and other harm for patients. Additionally, the agreement states that lead nurses will not have a patient assignment, so they can perform their duties in support of their fellow RNs.
Economic gains to help with recruitment and retention. With across the board wage increases of at least 15 percent, with more based on years of experience, Keck and Norris will now have some of the most competitive wages in the region, helping to attract the most experienced nurses to care for patients and the community served by the hospitals.
Critical educational opportunities. The agreement includes continuing education opportunities for nurses and reimbursement for conferences and seminars.
Important union protections. With the ongoing growth of Keck Hospital and Norris Comprehensive Cancer Center, nurses say they are pleased that even if RNs are shifted to new buildings within the larger campus, the new contract will protect their union and contract rights—allowing them to continue advocating for their patients.
Workplace violence protections. Nurses laud the current contract's compliance with a nation-leading CNA-sponsored workplace violence law and new regulations stating that all hospitals must adopt a workplace violence prevention plan, with staff training and other steps to reduce the danger of violence for employees, patients, patient families, and visitors.
No takeaways to health benefits, expanded life insurance. Nurses will be able to keep their health benefits and will also receive expanded life insurance.
"The nurses of USC feel that this union contract is a clear commitment to staff and that we are moving forward to creating a healthy work environment for our nurses and patients," said Maureen Miranda, RN. "I personally feel a grand sense of pride to have negotiated a contract that fosters higher learning and rewarding working conditions."
 
California Nurses Association represents nearly 100,000 nurses statewide and is part of National Nurses United, the largest union of registered nurses in the country.