Press Release
RNs Voice Patient Care Concerns as Kaiser Officials Fail to Show Up for First Day of Contract Talks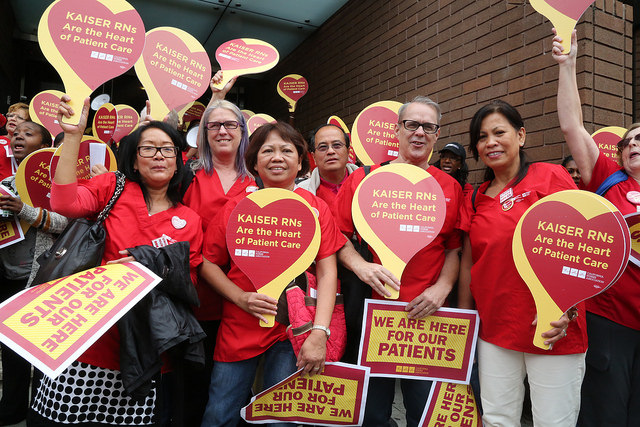 Several hundred Registered Nurses joined an impromptu speak out Thursday warning "the model of care at Kaiser is leading to more harm and less care for our patients" on what was expected to be the first day of contract talks with Kaiser Permanente officials on a new collective bargaining agreement for 18,000 RNs at 66 Kaiser hospitals and clinics in California.

Negotiations, scheduled to begin Thursday morning, were aborted when Kaiser representatives failed to arrive for talks. Representatives of the California Nurses Association/National Nurses United said they expect bargaining will be rescheduled for the near future.

"We are not asking for a lot, we are asking for what is right, proper care for our patients and for all of us to be able to practice our profession safely," said Zenei Cortez, RN in greeting the Kaiser RN negotiating team and other Kaiser RNs on hand for the first day. Cortez is chair of the Kaiser RN team, and a co-president of CNA/NNU.

Traditionally RNs and Kaiser negotiators have alternated meetings between CNA and Kaiser offices. Today's meeting was scheduled at the CNA offices. Kaiser abruptly refused to come to CNA. "Their refusal to attend bargaining at the nurses' home shows the same lack of respect we experience with their failure to listen to the RNs' concerns about cuts in patient care," said Karen Chan, CNA Kaiser division director.

With Kaiser negotiators absent, RNs marched to Kaiser's nearby headquarters for a speak out on nurses' concerns about what they see as a serious erosion in patient care standards even as Kaiser profits for the first quarter of 2014 jumped to $1.1 billion, a 44 percent increase over the same quarter last year. Its operating revenues were up 6 percent and operating profits up 49 percent during the same period. Last year, Kaiser made $2.7 billion in profits.

Additionally, Kaiser has accumulated a $21.7 billion reserve fund, 1,626 percent more than required by the state, a clear indication on top of the nearly $4 billion in profits the past 15 months that cuts are unnecessary, says CNA/NNU.