Press Release
RNs, Hospital Workers, and Community Meet to Save Doctors San Pablo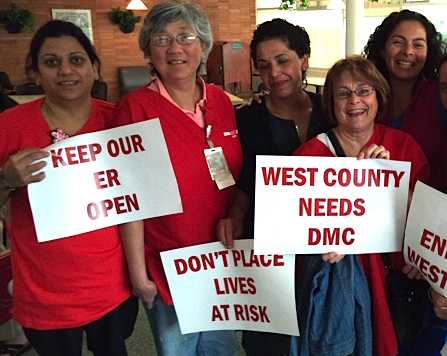 RNs Demand County Take Charge Public meeting Saturday 10:00 a.m. at hospital
SAN PABLO-Registered nurses, hospital workers and community members are holding a public meeting at the hospital this Saturday to plan the next steps in their effort to keep Doctors Medical Center San Pablo (DMC) and its emergency department open. San
The nurses say that closure of DMC would create a dire public health crisis in the West Contra Costa County and are urging Contra Costa County to assume authority to ensure the continued operation of the facility as an acute care hospital with a fully staffed Emergency Room and ICU.
What: Public Meeting to Save Doctors San Pablo
When: May 10, 2014, 10:00 a.m. to 12:00 p.m.
Where: Doctors Medical Center Auditorium
           Basement Floor, 2000 Vale Road, San Pablo, CA
The meeting will provide residents, and health care providers with a briefing on the latest developments, and then determine the next steps in a campaign to save the hospital including pressuring the County to step in.
Studies have shown that the closure of Doctors Medical Center will could lead to medical catastrophe. In 2004, a study by the Abaris Group concluded that in the case of a closure, "[i] t is unlikely that all ambulances could be safely diverted to other regional EDs without some risk to patient care."
In 2011, further study by the Abaris Group concluded the elimination of DMC would eliminate critical infrastructure needed to support the community in the event of another disaster like the 2012 Chevron refinery. DMC has 80 percent of the inpatient hospital beds in West County and receives 60 percent of the ambulance visits.