Press Release
RNs Hold Vigil to Mourn Death of 6-Month Infant, Cite Closure of Pediatric Care Unit at Hospital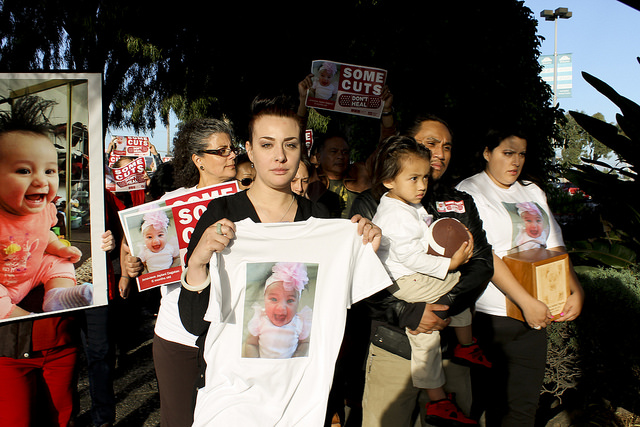 More than 150 registered nurses and community members held a somber candlelight vigil May 22 night in honor of Jenevieve Dagatan, a 6-month old infant who died in April after being discharged after an initial visit to the emergency room at Kaiser's Hayward hospital which had several months earlier closed its children's services unit.
 
"Kaiser failed my family and daughter when they sent us home from the emergency room telling us to just give her Pedialyte and over the counter medicine. It was only when we came back for the second time and demanded treatment that they caught her meningitis. But it was too late and now our little Jenevieve is gone," Jenevieve's mother, Andrea Olguin, told the California Nurses Association/National Nurses United.
 
The HMO giant closed the Hayward pediatrics unit in November leaving over 100,000 families in southern and central Alameda County without access to hospitalization for children under 18 in their own communities. The in-patient pediatric facility saw 1,800 families every year who must now travel to Oakland, San Jose or even Roseville on congested freeways for needed care.

Jenevieve Jaylani Dagatan
In early April, Jenevieve Dagatan was checked into the ER at Kaiser Hayward following a seizure and high fever, her family reports. Several hours later, the hospital, which no longer had a pediatric unit to which a child might previously have been admitted for care, sent her home.   
 
Later, Jenevieve was back in the hospital, yet Kaiser still had no pediatric unit. After finally being transported to another Kaiser hospital, Jenevieve died on April 12.
 
While Kaiser has opened a new facility in San Leandro, it does not provide pediatric care for sick children, or have an intermediate step down care unit, an important transitional care unit for patients just out of intensive care.
 
"As nurses we are appalled at what the closure has meant for our patients and their families who should not be put in harm's way as a result of questionable business goals by an enormously profitable hospital chain that should be making quality care its first priority. Depriving families and their children of needed care does not help anyone 'thrive'," said Zenei Cortez, RN, a CNA co-president and chair of CNA's Kaiser nurse negotiating committee.
 
Kaiser recently reported piling up $1.1 billion in profits for the first quarter of 2014, a 44 percent increase over the previous year. Additionally, Kaiser has accumulated a reserve of $21.7 billion, far beyond what is required by the State of California.