Press Release
RN-Backed Bills on Patient Choice, Safety, Workplace Violence Prevention Advance in Sacramento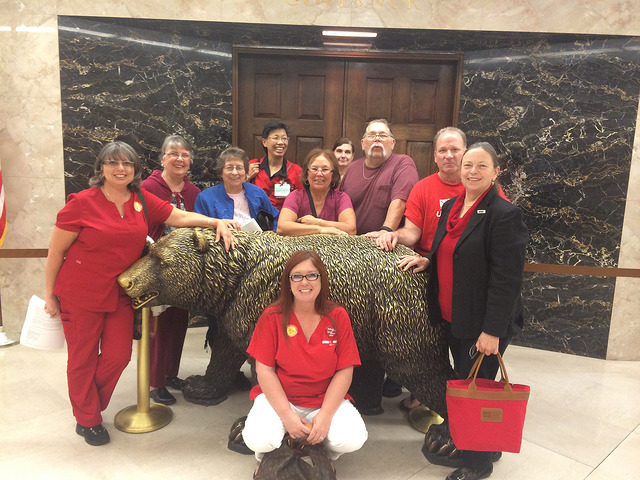 Three bills sponsored by the California Nurses Association/National Nurses United that would enhance patient safety, increase access to care, and promote workplace violence prevention advanced in the California legislature this week.
Late Tuesday night, the Assembly Health Committee gave the green light to AB 2533 to protect the ability of Californians to seek medical care from the providers of their choice by restricting higher charges for patients who get medical care outside their insurance provider "network."
 
On Wednesday, the Senate Health Committee approved SB 1299, a bill to require the state to adopt standards all hospitals must follow to establish workplace violence prevention plans, and SB 1269 to set improved safety standards in so-called "observation" units operated by hospitals.
 
AB 2533, introduced by Assembly member Tom Ammiano, is the centerpiece of a CNA-proposed Patients Bill of Rights, a patient protection package that also includes SB 1269, as well as AB 503, a bill that would hold non-profit hospitals more accountable on meeting their charity care and community benefit obligations. Hearings on AB 503 are expected in the coming weeks.
AB 2533, which passed its first committee test Tuesday night, is especially timely, says CNA, for Californians who have just signed up for private insurance coverage through the Affordable Care Act's state health exchange, Covered California.
 
A key component of the bill is to require health insurers to arrange for enrollees who go outside their "approved" network of doctors or hospitals to obtain needed medical care in a timely manner will be charged the same out-of-pocket costs as they would pay for getting care within their network.
 
That tackles what CNA Co-President Deborah Burger, RN notes is "a gaping hole in the health insurance system that either limits patient choice, forces them to travel long distances to find a provider within their 'network' or exposes patients and families to excessively high bills that can lead to financial ruin."  
 
While the practice of imposing much higher costs on patients who seek care outside their limited networks is a long-standing abuse, the bill also responds to reports that some insurers in the new Covered California exchanges have set even more restrictive network limitations.
 
AB 2533 would also require health insurers to file annual reports on denials of care and complaints about timely access to care to the California Department of Insurance and Department of Managed Health Care and require the departments to post the information on their website for public review.
 
Campaign for a Healthy California is among the supporters of the bill.
 
Improved safety in 'observation units'
 
SB 1269, authored by Sen. Jim Beall, takes on a growing abuse by some California hospitals who place  patients in "observation" beds within hospital settings that are not subject to the same oversight and public protection as inpatient units.  CNA charges that those hospitals engage in these practices specifically to avoid admitting patients in need of more specialized hospital care, in part to avoid new federal penalties for patients who are frequently re-admitted to hospital care after discharge; the same penalties do not apply for a patient re-admitted after discharge from an observation unit.
 
In testimony to the Senate Health Committee Tuesday, Kaiser Permanente Oakland hospital RN Kathy Donahue reported that "patients that historically in the past have been admitted with their presenting complaint or diagnosis, are now being placed in observation status and are remaining there for as long of a time as currently legally possible."  
 
"Many of these patients are extremely sick.  They are not there for a bolus of fluids to hydrate them, observe their condition and discharge them.  They are now there to be observed with much more serious symptoms such as chest pain and cardiac complaints.  Make no mistake, being a patient in an observation unit is currently extremely unsafe," Donahue said.
 
Describing such units as "parking lots where patients wait for a bed or, in many cases, are discharged prematurely," Donahue noted "if these patients present themselves to the Emergency Department and are not cared for appropriately and are placed in observation units and sent home early, there is a greater likelihood of them returning with the same symptoms/diagnosis. Yet the hospital will not be fined because the patient was never admitted - they were under observation."
 
Workplace violence prevention bill moves forward
 
A third CNA bill that has drawn increasing notice passed its second committee test this week. SB 1299 by Sen. Alex Padilla won passage in the Senate Health Committee Wednesday.
 
It requires the California Occupational Safety and Health Standards Board to adopt standards requiring hospitals to establish workplace violence prevention plans to protect health care workers and other facility personnel from aggressive and violent behavior, and document and report incidents of violence to Cal-OSHA.
 
Hospitals would be required to provide education and training programs for recognizing and responding to violence, and would be prohibited from retaliation against employees who seek help from law enforcement.
 
Testifying in support of SB 1299 Tuesday, Sacramento RN Rick Domenico noted, "no bill will eliminate violence but this bill will go a long way to securing a safer work place by setting standards that make hospital do what they have not done up to this point.  It is long overdue. It's time to care for the caregivers."