Press Release
Registered Nurses at Oroville Hospital Unanimously Ratify New Contract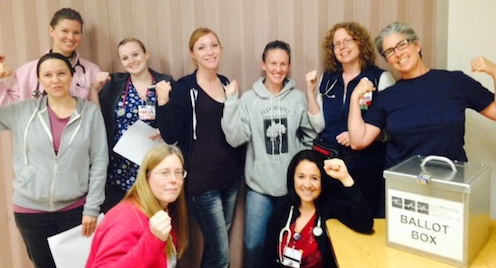 The Registered Nurses at Oroville Hospital unanimously ratified a new contract yesterday that strengthens the voice of nurses in improving the quality of patient care, including safe staffing.
In the months preceding the ratification, nurses had flagged a number of issues contributing to attrition and turnover of experienced nursing staff at the hospital. The new contract allays these problems, nurses say, because it enhances the Professional Practice Committee (PPC), retains adequate sick and education leave and provides across-the-board wage increases.
"My colleagues have expressed their overwhelming approval at what we achieved in our contract bargaining," said Rebecca Lopes, RN. "The fact that we prevailed with no erosions to our current contract is very compelling, and the staffing language improvements with the PPC and Staffing Committee are like icing on the cake. Nurses were willing to fight if priorities were not met, and management clearly heard us."
"This vote represents the will of the nurses, and that we will always fight for safe patient care," said Melissa Moore, RN.  "We succeeded in language that meets our needs, especially with an expanded Professional Practice Committee intent on ensuring safe staffing as our top priority. We're very proud of this, and of winning across-the-board increases for all nurses, and of fighting off management's attempts to erode sick leave and education leave in our contract."
The new contract provides for stronger oversight of health and safety/staffing concerns:
    •    Doubles the number of RNs allowed on the Professional Practice Committee (PPC), strengthening the voice of nurses in resolving patient care issues.
    •    Increases the PPC pay Oroville will provide to RNs participating as PPC members (formerly 36 hours total/year for all, now up to 144 hours/year).
    •    Provision for the PPC to develop the Exposure Control Plan to comply with the new Cal-OSHA Ebola Guidance issued in November 2014.
    •    New language provides for a staffing committee to specifically work on rectifying staffing problems.
    •    Across-the-board wage increases between 7.25% and 8.25% over four years.
    •    Management's proposals to  reduce sick leave pay and education leave were dropped.