Press Release
Registered Nurses at Kindred Westminster Ratify First CNA Contract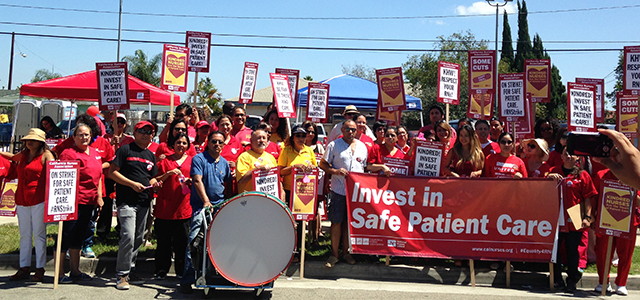 Registered nurses at Kindred Hospital Westminster (KHW) in Westminster, Ca. are celebrating the ratification of their first-ever collective bargaining agreement—overwhelmingly approved this week—the California Nurses Association/National Nurses United (CNA/NNU) announced today.
 
"This is a historic day for our community—and a big victory for all the nurses who worked so hard to make our voices heard," said Sunita Kumar, RN. "We really feel this contract is a step in the direction of improving care for our patients at the hospital."
 
The three-year contract covers 150 RNs at KHW and features highlights including:
Provisions for safe patient handling and safe staffing. The contract includes measures to assure the hospital provides adequate personnel to ensure safe patient handling and reduce RN injuries—as well as enforceable language to assure nurses can take meal and rest breaks without leaving patient care areas under staffed.
Economic gains in line with other CNA contracts. Fair wage increases of 10% over three years to all RNs will reward caregivers who have not had increases for many years, and may help retain longtime, experienced nurses for the community. A wage grid also moves towards a system of fairly rewarding nurses for years of service.
The establishment of a Professional Practice Committee (PCC). This committee of bedside RNs meets with management to advocate for safe patient care and nursing practice.
Prohibition against mandatory overtime. Studies have shown that inadequate breaks and resulting fatigue can compromise patient care—and can negatively affect nurses' health and safety. The contract's prohibiting of mandatory overtime ensures that patients receive the highest quality care.
Provision for RNs to volunteer in the Registered Nurse Response Network (RNRN). This CNA/NNU-sponsored program is a national network of direct-care RNs that coordinates sending volunteer RNs to disaster-stricken areas where and when they are needed. 
 
 "Organizing with CNA was a powerful experience, and now winning this first contract has strengthened our ability to provide the highest quality care," said Clarissa "Bing" Cruz, RN. "Our nurses know we can move forward better equipped to advocate for our patients—which is what the community deserves."