Press Release
Queen of the Valley RNs to Picket for Safe Patient Care Tuesday May 6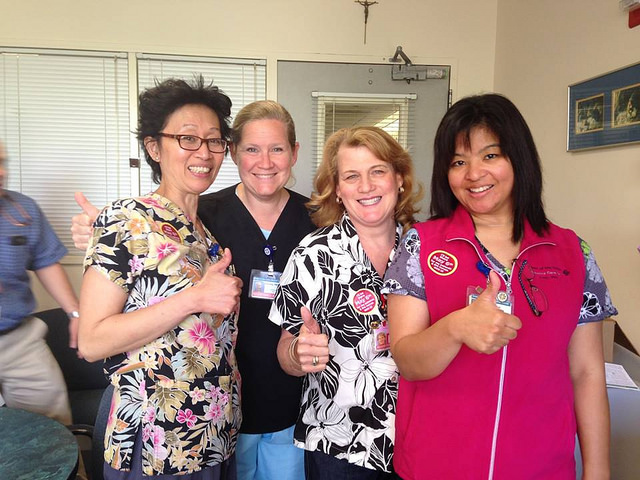 NAPA-Queen of the Valley (QVH) registered nurses in Napa, will hold an informational picket, Tuesday, May 7 in an effort to raise patient care standards to the same level as area hospitals, the California Nurses Association/National Nurses United, (CNA/NNU), who represents the 440 nurses announced today.
 
The RNs won an election to join CNA/NNU last May and began contract negotiations in September. The nurses say patient safety at the hospital is being compromised by management's refusal to follow California's lifesaving safe nurse-to-patient ratio law, with patients not receiving appropriate coverage when nurses take their meals and breaks. Extremely ill patients do not receive the level of nursing care they are entitled to assert the RNs because they say the hospital refuses to adjust the ratios when more care is needed.
 
What:         Queen of the Valley Nurses Picket for Safe Patient Care
When:        Tuesday May 6, 6:00 p.m.—8:00 p.m.     
Where:       1000 Trancas St, Napa, CA 94558
 
"The recent years have been difficult for the nurses at QVH," said Ben Mineau, an RN who works on 3 North, a medical surgical unit at the hospital. "While providing care for an increasingly complex population of patients, administration's support for RNs diminishes every year.  Nurses are not given appropriate break coverage, support staff, or equipment. It continues to place patients and dedicated staff at risk, especially on night and weekend shifts."
 
"The nurses at QVC are very frustrated," said Virginia Luke, a neo natal intensive care unit RN. "We want to give exceptional care; we just don't have the tools to do our job. Hospital administration needs to listen to their RNs."
 
Highlights of the nurse's central proposals include; enforceable RN-to patient staffing ratios in the contract, qualified RNs in each unit who can provide meal and break relief, an end to repeated unpaid on-call time, and the end to a four-year salary freeze that has made it difficult to recruit and retain experienced RNs.