Press Release
Queen of the Valley RNs Call One-Day Strike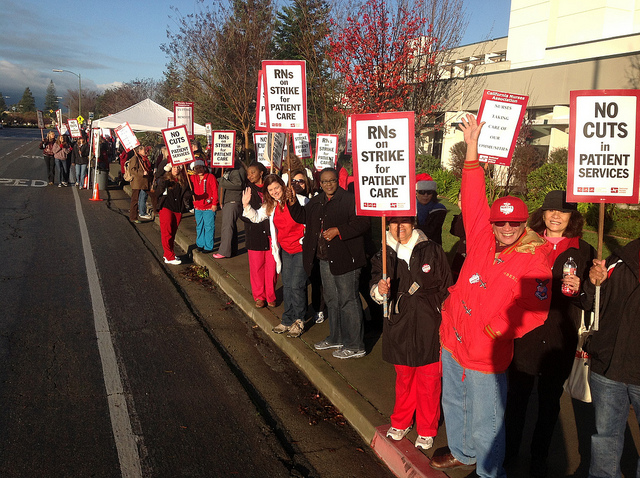 Registered nurses at Queen of the Valley Medical Center in Napa will hold a one-day strike Thursday, August 14 to protest the resistance of hospital officials to improve staffing needed for patient safety, as well as significant hospital demands for reductions in RN health benefits and retirement security.
 
Queen of the Valley RNs voted in May, 2013, and are seeking their first collective bargaining agreement.  Queen of the Valley is operated by St. Joseph Health System, an Orange County, Ca.-based hospital chain.
 
The walkout by Queen's RNs will coincide with RN strikes at two other hospitals, Sutter Tracy Community Hospital and Watsonville Community Hospital. The California Nurses Association/National Nurses United represents the RNs at all three hospitals.
 
At Queen of the Valley, the RNs have proposed language to improve staffing to meet state minimum staffing requirements and patient need, and not on budget-driven grids. CNA has filed charges with the National Labor Relations Board over the hospital's decision to unilaterally implement changes to its staffing system without bargaining with the union.
 
The RNs are also proposing the hospital provide sufficient staffing so that RNs are able to take meal and rest breaks without leaving patients without adequate staffing care; many RNs now are unable to take their breaks due to poor staffing.
 
 "Nurses at Queen deserve a contract that guarantees our patients get the best care possible. Nurses have been negotiating in good faith for a contract that will help us fight for safe staffing, but now hospital management is demanding language that could gut our contract the day after we agree to it. Nurses are prepared to fight for our future and our hospital," said MaryLou Bahn, RN, and OB-GYN RN and nurse negotiator at Queen of the Valley.
 
"Our hospital is becoming less safe because Queen management continues to take away resources. They have cut nursing aides, reduced the use of resource Nurses, and now staff to a grid rather than patient needs. St. Joseph needs to come to the table ready to respect Nurses and patients with a fair contract," said intensive care RN Leigh Glasgow.
 
The hospital is also demanding major takeaways in language that would allow management to make wholesale cuts in health benefits, pensions, and other time off with just 30 days notice.
 
CNA also represents St. Joseph RNs at St. Joseph Hospital in Eureka, Petaluma Valley Hospital in Petaluma, and St. Mary Medical Center in Apple Valley in Southern California as well as Queen of the Valley.