Press Release
Providence St. Joseph Health Nurses Hold Day of Action March 31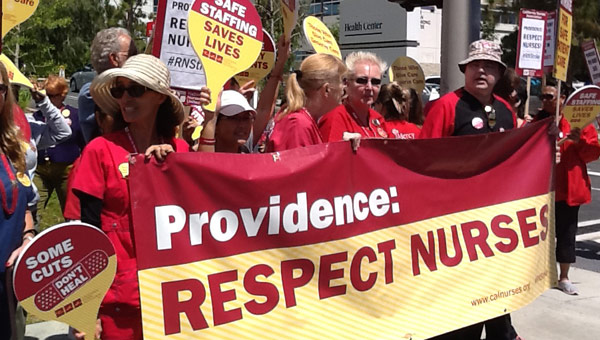 After Profitable Merger, RNs Demand PSJH Channel Funds To Patients, Not Bottom Line
Registered nurses at Providence St. Joseph Health (PSJH) hospitals throughout California will hold a day of action Friday, March 31, to highlight safe patient care and workers' rights issues emerging as the system, nurses say, has failed to follow through on promises of enhanced community services and benefits made during the 2016 merger of Providence Health & Services and St. Joseph Health.
 "As nurses, it is our duty to advocate for safe patient care—and safe working conditions for nurses so that we can provide top quality care for patients in our communities," said Lois Sanders, RN, of St. Mary Medical Center in Apple Valley.
"Yet, throughout the PSJH system we're seeing serious ongoing issues, including unsafe staffing—which puts our patients' lives at risk. When Providence and St. Joseph Health merged, they promised to enhance healthcare for underserved members of our communities, and so far, we only see them having benefitted from an enhanced bottom line," Sanders said.
March 31 actions, sponsored by the California Nurses Association/National Nurses United (CNA/NNU) will take place in the following locations:
SANTA MONICA: ST. JOHNS HOSPITAL—"Leaflets and Lattes," 6:30 – 8:30 a.m., 2121 Santa Monica Blvd, Santa Monica, CA 90404
SAN PEDRO: LITTLE COMPANY OF MARY HOSPITAL—Informational picket and picnic, 12 noon-2 p.m., 1300 West 7th street, San Pedro, CA 90732
TORRANCE: LITTLE COMPANY OF MARY HOSPITAL—Informational picket, 6 p.m., 4101 Torrance Blvd, Torrance, CA 90503
ORANGE COUNTY: ST. JOSEPH OF ORANGE, ST. JUDE MEDICAL CENTER—Orange County PSJH RN Open House, 4-9 p.m., Fullerton, CA (call 480-290-8187 for directions)
APPLE VALLEY: ST. MARY MEDICAL CENTER—Leafleting, 6:30 a.m., 18300 California 18, Apple Valley, CA 92307
NAPA: QUEEN OF THE VALLEY MEDICAL CENTER—March to CEO Larry Coomes' office to deliver forms documenting issues with safe patient care, 11 a.m., 1000 Trancas St., Napa, CA 94558
EUREKA: ST. JOSEPH HOSPITAL EUREKA, REDWOOD MEMORIAL HOSPITAL—Leafleting outside St. Joseph Eureka hospital 5:30 a.m.- 7 a.m., information table inside hospital, 10 a.m. – 2 p.m., 2700 Dolbeer St., Eureka, CA 95501
Nurses say they will spend the day of action notifying the community about critical issues including:
 
Deteriorating patient care and working conditions in PSJH hospitals. Nurses have raised a litany of concerns about the commitment of PSJH to patient care—including unsafe staffing levels, insufficient supplies and resources, and lack of meal and rest breaks for nurses.  These concerns were documented pre-merger in a report CNA released in August 2015 available at SJHFallFromGrace.org  Conditions have not improved post-merger, nurses say.
"We're seeing hospitals throughout the PSJH system fail to meet California's mandatory safe staffing ratios that set a limit on how many patients nurses can care for at one time," said Liz Wade, a Labor & Delivery RN from Providence Saint John's Health Center. "For PSJH, this is a cost-saving measure, to overload nurses with more patients than we can possibly handle. In our perinatal units, for example, they assign nurses without any thought to the level of severity of care needed by the patient. They force post partum nurses to care for four 'couplets' (a couplet is two patients) instead of three, as recommended by the Association of Women's Health, Obstetric and Neonatal Nurses.
"Babies are people, too, and saving money on staffing is not more important than saving patients' lives," said Wade. "Studies have shown that hospital systems save money through consolidation; why is PSJH not channeling those savings from the merger into better patient care?"
Holding PSJH to promises made during merger. Though St. Joseph Health System (SJHS) and Providence Health & Services (PH&S) contended that their merger was mission-based, nurses say it was obvious from the their filings that the primary purpose of the merger was to allow SJHS and PH&S to obtain substantial financial benefits through access to capital, by means of a "single obligated group"—an arrangement that benefits them financially through increased size and market power, and leveraging combined net assets.
In 2015, Rod Hochman, M.D., president and CEO, PSJH, said Providence and St. Joseph Health's missions were "aligned to improve the quality of care, increase access and make care more affordable for everyone." In 2016, Hochman said the system, post-merger, would be a "catalyst for improving mental health."
Nurses at the facilities taking part in the day of action say no sign has yet emerged of any benefit for communities served by PSJH hospitals—including in expanded charity care or mental health services. This lack of increased access to quality, affordable care, say nurses, undermines the hospital system's claim that a merger was mission based, rather than profit based.
Egregious violations of nurses' rights. The National Labor Relations Board (NLRB) has found merit to dozens of unfair labor practice charges filed by CNA against SJHS California hospitals, and in early 2017, the NLRB issued a consolidated complaint against St. Jude Medical Center, St. Joseph of Orange and Mission Hospital.
On May 8, 2017, the NLRB has scheduled a hearing before an administrative law judge on a series of unfair labor practices dating back over two years.
Charges include surveillance of union supportive nurses, discipline of nurses for engaging in protected union activity, coercive management interrogation of RNs about their support for the union and threats of reprisals as a result of nurses' support for the union, and prohibition of nurses' rights to communicate with their colleagues about the union in non-patient care areas.