Press Release
Palmetto General RNs Vote by 86% to Join NNOC-Florida With Huge Win at Hialeah Hospital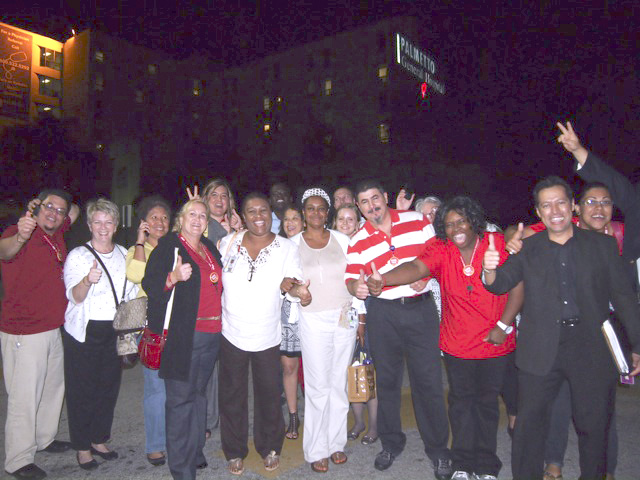 For Immediate Release
November 16, 2011
Nation's Largest RN Union Now Represents Nurses at 15 Florida Hospitals
In what Palmetto General Hospital RN Ailen Leiva termed "a clear mandate by Palmetto RNs who see an urgent need to improve quality of care," registered nurses at the Hialeah hospital voted by 86 percent Tuesday night to join the state and nation's largest union and professional association of RNs.
Palmetto RNs voted 271 to 45 to become the newest members of National Nurses Organizing Committee-Florida, the state affiliate of National Nurses United. Florida-NNOC will represent 500 RNs at the south Florida hospital.
The National Labor Relations Board conducted the secret ballot election.??Palmetto Victory?Palmetto RNs celebrate their victory??"We are thrilled with our victory," said Rose Campbell, an intensive care unit RN at Palmetto. "I am looking forward to bargaining for improved staffing which will decrease turnover.  We need to recruit and retain experienced RNs in order to provide the safest patient care possible."
NNOC-Florida now represents some 6,000 Florida RNs in 15 facilities around the state. Nationally, NNU represents 170,000 RNs.
Palmetto General is an affiliate of the Tenet Health chain, one of the country's largest for-profit hospital systems. Nationally, NNU now represents 3,700 Tenet RNs in nine Tenet hospitals in Florida, Texas, and California.
NNOC's Tenet RN Bargaining Council Chair Sherri Stoddard, RN offered an enthusiastic welcome to the Palmetto RNs.??"With more RNs from Florida joining our ranks, we are increasing our collective strength to fight for patient care standards and safe nursing practice throughout Tenet facilities," said Stoddard. "In this time of corporate profit above all, it is increasingly important that we are united in these goals.  We look forward to working with the Palmetto RNs."
Key issues for the Palmetto RNs include a stronger voice in patient care protections at the hospital, improved staffing, and strengthened economic and workplace standards for RNs.??"Now we have successfully joined the all staff nurse union that has the best contracts for RNs in the country and is fighting for patients and nurses effectively," said Miriam Carta, a neo-natal intensive care unit RN at Palmetto.  "We can raise our standards together now!"??"Joining NNU is the most concrete way for RNs to have a collective bargaining right to make the changes," added Leiva.
In addition to major expansion of representation election wins over the past two years in?Florida, NNOC-Florida RNs are also working to pass patient care legislation, including a bill for nurse-to-patient ratios and improved patient advocacy rights for RNs.??The bill will be taken up when the legislature reconvenes in January. NNOC-Florida RNs from Florida Medical Center recently testified at a legislative hearing on the issue in Broward County.
###