Press Release
Nurses, Techs and the Community Hold Rally to Encourage DECH Administration to Listen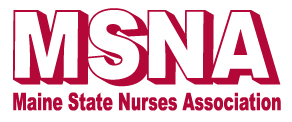 The Nurses and Techs from Down East Community Hospital have been bargaining since last Fall to have a fair and equitable contract.  Nurses, Techs, all staff have worked hard to overcome the adversity of the receivership in the past few years to provide the best possible care in the State.  The staff provides the highest level of care and management is taking the wrong direction for the community of Machias.

There are open positions that management has been unable to fill, so they are using outside staffing agencies that are paid an average of $60 an hour.   "DECH spent over $758,000 in 2011 on Travelers, we believe that the hospital administration can actually work with the MSNA team at DECH to work out a better solution other than the use of Travelers.  Those resources should go to staffing DECH with nurses who live in Washington County.," said Janet Tibbetts, RN a night nurse.

"Without the benefit of the night shift differential, recruitment and retention will continue to be a problem.  The future stability of the night shift staffing is at stake here," said Tibbetts.  

There are multiple studies that show those who work the night shift have a shorter life expectancy and have higher rates of lung disease and diabetes.  The World Health Organization has linked higher rates of cancer (up to 48% of some types) with night shift work.  There is also a higher rate of workplace injury.   There is a reason that DECH and other hospitals have night shift differentials.
 
WHAT:    Rally to Support the Nurses and Techs
WHO:    RNs, Techs from the Maine State Nurses Association and supporters
WHEN:    Friday, April 13, 2012 at 5:00 pm
WHERE:    Across from the Hospital

MSNA/NNU represents over 2000 nurses who work in facilities and agencies throughout the state of Maine. As the largest organization of nurses in the state, MSNA/NNOC is committed to improving the standards of nursing and patient care through collective bargaining, advocacy and organizing.  MSNA is part of the National Nurses United representing over 180,000 RNs nation wide.   
###