Press Release
Nurses at St. Rose Hospital in Hayward Reach Tentative Agreement with Pay, Health Care Gains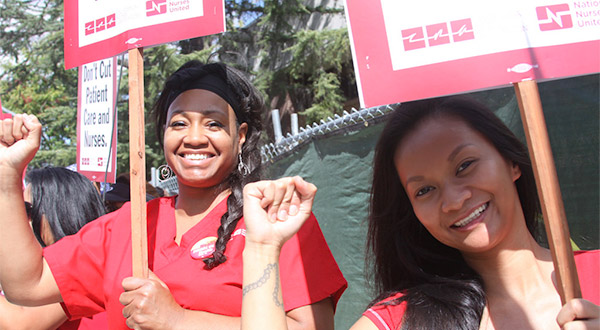 "We are very proud of this agreement because it will support us in providing quality care to our community."
Registered nurses at St. Rose Hospital in Hayward have reached tentative agreement with hospital officials on a bargaining agreement that includes important gains in economic security, significant improvements in healthcare, and an improved orientation program for new grads the California Nurses Association, National Nurses United announced today.
RNs say the agreement, which covers 300 nurses over a four-year term through May 31, 2021, will enhance the hospitals ability to retain and recruit RNs after years of significant loss of nursing staff to other hospitals in the region. St. Rose provides care for up to 15 percent of the most indigent residents of Alameda County and has lost 50 percent of its nursing staff over the past four years.
"Quality patient care very much depends on the retention of experienced nursing staff so it was very important to us that the new agreement address the high turnover rate at St. Rose by offering nurses incentives to stay," said Patricia Mathews, Med Surg. "At the same time, the new preceptor language in the agreement assures that our new grads, which currently make up 30 percent of our nursing staff, will receive sufficient training prior to taking care of patients. We are very proud of this agreement because it will support us in providing quality care to our community."
"One of our goals with the new agreement was to improve the healthcare plan because nurses have been paying exorbitant out-of-pocket costs for health care, actually higher than the market rate," said Dianne Kubota, Med Surg/Tele. "The new agreement gives nurses the ability to get medical care without being penalized with high deductibles and out-of-pocket maximum costs and this will help with the recruitment and retention of experienced RNs that St. Rose patients deserve."
St. Rose RNs must still vote to ratify the agreement in membership meetings to be held May 23.
Highlights of the agreement include:
Improved healthcare plan including premium reductions in 2017 and reductions in deductibles and out-of-pocket maximums by the end of 2020.
Significant wage increases and enhancements of 20 to 28 percent over the term of the agreement.
An improved training program guaranteeing new grads 12 weeks of orientation in the ICU, ED and Labor and Delivery departments and seven weeks of orientation for new grads in all other units.
The California Nurses Association has 100,000 members statewide and is affiliated with National Nurses United, the largest and fastest growing union of RNs in the nation. CNA/NNU has won landmark health and safety protections for nurses and patients in the areas of staffing, safe patient handling, infectious disease and workplace violence protection.