Press Release
Nurses Mark Five Years of Collective Bargaining, Quality Care in TX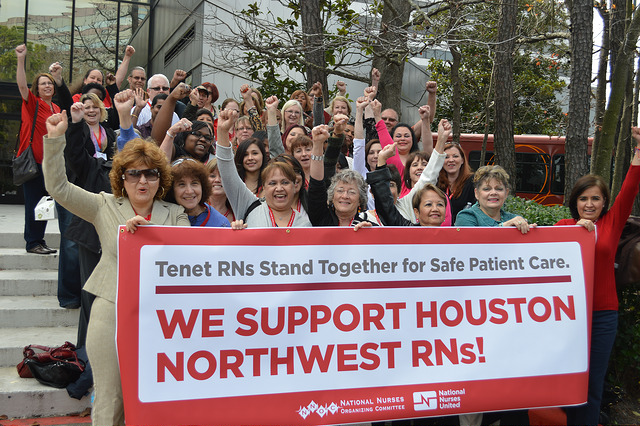 Rally - Thursday at Noon – Cypress Fairbanks Medical Center
5th Anniversary of First Private Sector Unionized Hospital in State
Houston  – Registered Nurses, members of the National Nurses Organizing Committee-Texas/National Nurses United (NNU) -- the largest union and professional association of registered nurses in the country, with 185,000 members -- will rally outside Cypress Fairbanks Medical Center (11049 FM 1940, Houston, corner of Steepletop and FM 1960)  on Thursday, January 24 at Noon, to celebrate an important anniversary: five years of collective bargaining -- and the quality patient care those contracts provide --in the state's private sector hospitals. 
"What you see in our hospitals is the highest priority given to patient care," said Valarie Grey, RN, Cypress Fairbanks Medical Center.  "The contract we bargained for, and those at other hospitals our union represents, provides wages and working conditions that support a professional nursing staff.  That translates into quality care for the community.  That's what collective bargaining means."
Grey will be joined at the noon rally by other RNs now covered by collective bargaining agreements in Texas, as well as NNU nurses from Florida, Missouri and California.  
In addition to Cypress Fairbanks in Houston, RNs at Providence Memorial Hospital in El Paso voted overwhelmingly to join NNOC-Texas this past fall.  Both are facilities owned by Tenet Healthcare system.   They join nearly 5,000 RNs at 12 Tenet hospitals in California, Florida and Missouri represented by NNU.   
Here in Texas, RNs are also represented by NNOC-Texas at four other hospitals; in El Paso, at Las Palmas Medical Center and Del Sol Medical Center, at Corpus Christi Medical Center and at Valley Regional Medical Center in Brownsville.  These four are owned by HCA, the largest for-profit hospital company in the U.S. 
Collective bargaining agreements covering all these facilities seek to achieve improved hospital staffing, better pay, health and retirement benefits, uninterrupted meal and rest breaks, adequate equipment and supplies, and meaningful representation and respectful treatment.   Nurses say that these measures enhance quality patient care and help in the recruitment and retention of RNs. 
"The nurses of NNOC-Texas have a lot to celebrate" said Becky Moller, president of the Texas AFL-CIO.  "No private hospital RNs had collective representation before 2008 and then came their win at Cypress Fairbanks.   They raise standards wherever they go, which is a real win for Texans and reason for us all to celebrate."