Press Release
Nurses Endorse Arturo Carmona in Los Angeles Congressional Race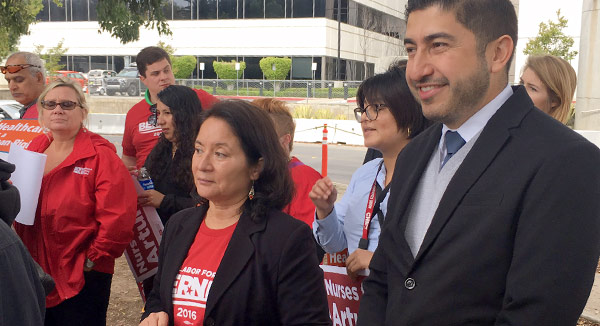 'Strong Advocate for Real Healthcare Reform – Medicare for All' say RNs
National Nurses United, which includes the California Nurses Association, today announced its support for Arturo Carmona for Congress in the 34th Congressional district special election April 4.
The district covers a number of diverse communities and neighborhoods across a major portion of Los Angeles.
A key to the endorsement for NNU is Carmona's strong advocacy for resolving the national health care debate by promoting a Medicare for all system, as well as his commitments to fight for workers' rights, demanding accountability from Wall Street for damage done to the economy, and other economic, social, and environmental justice reforms.
NNU/CNA members worked with Carmona during the California primary campaign last spring when Carmona served as a deputy political director for Sen. Bernie Sanders who was also strongly supported by NNU, noted NNU Co-President Deborah Burger, RN. "We trust Arturo to be a strong voice for nurses, for Californians, and to forcefully advocate for a progressive agenda in Congress."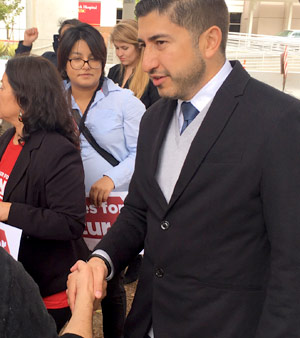 Carmona welcomed the endorsement, noting, "It's a real honor to earn the endorsement of the National Nurses United, a fearless organization that is leading the fight to ensure healthcare as a right for all Americans." 
"I had the privilege of working very closely with the nurses union during the Bernie campaign and I am now excited to work shoulder to shoulder with them in the coming weeks and months to protect and advance the critical healthcare needs of the residents of the 34th District and all Americans," Carmona said.
On health care, said Burger, "nurses know we can count on Arturo to work to fix our health care system once and for all. It's not enough just to oppose the repeal of the Affordable Care Act, we need a genuine alternative that guarantees healthcare for everyone without the skyrocketing deductibles, co-pays, and other fees that result in denial of care for millions of people." 
In his campaign, Carmona emphasizes, "It's time for the U.S. to join every major industrialized country on Earth and provide universal health care to all by enacting a Medicare for all, single-payer health care system." He also notes while opposing the effort to repeal and Affordable Care Act, "the fact remains that it was not enough. We need to move to a universal, single-payer health care system that covers all of our people."
"In California, we know we can count on Arturo Carmona to work with us in supporting the Healthy California Act, SB 562, that would meet that test, and can be a model for the nation," Burger said.
SB 562, which would establish a Medicare for all-type, single payer system in California, was introduced by State Senators Ricardo Lara and Toni Atkins, and is sponsored by the California Nurses Association/NNU.
NNU also supports Carmona for his strong stance on other key issues, including immigrant rights, climate justice, raising the federal minimum wage, opposition to unfair trade agreements, and broad campaign finance reform.
For more images from the press conference: https://flic.kr/s/aHskRuPNEg