Press Release
Nurses, Community Activists to Call on City to Enact Moratorium on Dangerous Petcoke Piles Exposure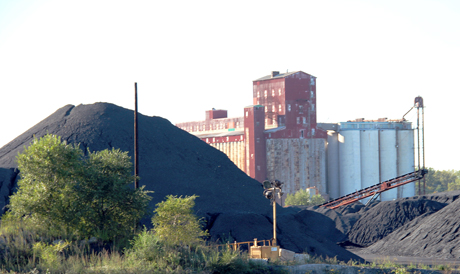 Press Conference – Monday, May 12, City Hall
CHICAGO – Registered nurses and other community activists will take a bus tour of polluting petcoke sites Monday, May 12, and then hold a noon press conference at City Hall to demand Mayor Rahm Emanuel and the City Council stop the delays and declare an immediate moratorium on petcoke to protect city residents.
In a letter to be delivered to Mayor Emanuel and other city leaders Monday, National Nurses United, the Southeast Side Environmental Task Force, Southeast Side Coalition to Ban Petcoke, and Progressive Democrats of America, will call on the Mayor and Council to:
Adopt an immediate moratorium "to cease all petcoke operations, transport, and storage within the city until it is learned what impact petcoke has on the health of Chicagoans or until the piles are enclosed."
---------------------------
Schedule
9 a.m. – Bus tour of Petcoke Piles, bus departs from Wolfe Park, 3325 E. 108th St.,
12 noon – Press conference, City Hall, 121 N. LaSalle St.
---------------------------
The activists say a city ordinance passed in April falls far short of what is needed. "The recent petcoke ordinance," they note in the letter to be delivered Monday, "allows facilities to store open piles of petcoke for the next two years, thus permitting petcoke particles to blow across Chicago communities causing health problems for our citizens."
"We can no longer wait to find out just how sick Chicago residents will become as a result of breathing in petcoke," said Jenise Oliver, RN. "All petcoke operations must cease immediately until a study can be conducted to determine what health and other impact petcoke has on Chicagoans."
Petroleum coke, known as petcoke is, in this case, the residue from the refining of heavy crude derived from tar sands. These piles have created widespread protests as a result of wind-blown storms of black dust laced with laced with sulfur, metals and volatiles blowing over mostly low-income neighborhoods. The piles look similar to coal but are more toxic, and blow into haze and wind gusts more easily.
Health effects reported by the community include increased asthma and other respiratory ailments due to petcoke particulates, rare cancers, and premature death.
Chicagoans have been especially affected. Petcoke piles up to six stories high and a quarter mile long are being stored in the open near Chicago neighborhoods with schools and areas where children play. Dust storms have already caused neighborhood evacuations.
The billionaire oil magnate Koch Brothers own much of the petcoke. As Olga Bautista of the Southeast Side Coalition to Ban Petcoke put it, "we can not wait for Rahm Emanuel and the Chicago City Council to work out a deal with the Koch Brothers. We need a moratorium on petcoke now."
Chicago's action on May 12 coincides with an international day of events called by Global Nurses United, of which NNU, the largest U.S. organization of nurses, is an affiliate. Other events are taking place in Washington DC, Sacramento, Ca., and in Latin America, Asia, Europe, and other North American and Caribbean nations.