Press Release
Nurses Announce Opposition to Judge Gorsuch, Support Filibuster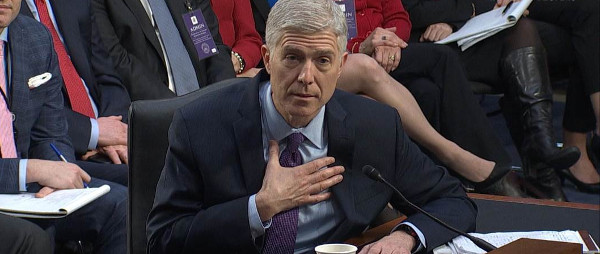 National Nurses United today announced its formal opposition to the confirmation of Judge Neil Gorsuch to the U.S. Supreme Court and said it will support plans for Senate Democrats to demand the nomination meet a 60-vote threshold, joining the opposition expressed by civil rights, civil liberties, and other organizations.
Despite Judge Gorsuch's repeated assertions in his confirmation hearings that he is independent, not guided by party or politics but by devotion to the law, NNU has concluded that "he is a man driven by ideology," as NNU Co-Presidents Deborah Burger, RN and Jean Ross, RN concluded in a letter Thursday to members of the Senate Committee on the Judiciary.
NNU separately praised the call by Senate Minority Leader Chuck Schumer to other Senate Democrats to join a filibuster of Judge Gorsuch's nomination.  "We strongly support this decision and urge all Senate Democrats to vote against cloture on the floor of the Senate," said Burger and Ross.  "Judge Gorsuch is not fit to serve on the highest court of the land and the Senate should reject his nomination."
Through numerous judicial rulings and opinions, Judge Gorsuch "has been consistently dismissive of Americans' rights to meaningful equality and workplace justice" and that "he has cultivated a jurisprudence that promotes business interests at the expense of the average American," wrote Burger and Ross in their letter to the committee.
Examining his record draws a clear record of the role Gorsuch would play on the nation's highest court, Burger and Ross wrote.
His rulings reveal thinking that "minority rights should not be jealously protected by the courts, but rather subject to the political will of insular majorities. Workers' rights should be given very narrow readings so that business interests can rule the day. And federal judges should be able to substitute their ideology for actual agency expertise, to minimize the effect of federal laws that protect the average American," they wrote.
In one of his most telling political comments, Gorsuch wrote in the National Review in 2005 that "American liberals have become addicted to the courtroom… as the primary means of effecting their social agenda on everything from gay marriage" to other issues.
His discriminatory views on protections of minorities were expressed in a 2015 case, Druley v. Patton, in which Judge Gorsuch joined a ruling that a prison did not violate the rights of a transgender woman by housing her in an all-male facility and denying her hormone therapy.
In cases involving workers' rights, Judge Gorsuch has repeatedly aligned with corporate and employer interests against working people. In Hwang v. Kansas State University for example, he rejected a professor's assertion that his request for extended leave for addressing his cancer qualified as a reasonable accommodation, ignoring even the protections guaranteed under the Americans with Disabilities Act.
In NLRB v. Community Health Services, Judge Gorsuch dissented from a majority decision upholding backpay damages for workers whose federal rights were violated by their employer.
Similarly, Judge Gorsuch favored the employer in Weeks v. Kansas in holding an in-house counsel was not protected by law when she was fired after taking complaints by employees to the fire marshal, and in Compass Envt'l, Inc v. O.S.H.R.C. when he dissented from a ruling upholding a fine against a company that failed to adequately train a worker who was electrocuted.