Press Release
No More Excuses: Contra Costa County Property Tax Windfall Can Save DMC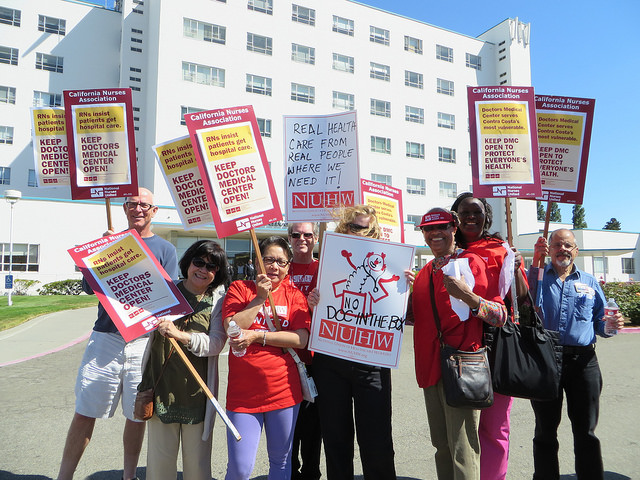 RNs and public say board must use projected $19 million increase to county coffers to secure hospital's future
 
Registered nurses, joined by community leaders and residents announced today that since the Contra Costa County Board of Supervisors now knows the county will receive a $19 million increase in property tax revenue over last year, they have no excuse but to keep Doctors Medical Center (DMC) in San Pablo operating as a full service hospital.
 
Just before the July 4th holiday weekend, the Contra Costa County tax assessor released figures showing that 2014 assessed commercial and residential property values rose by 9.1%, that is $13.3 billion over last year, the highest in county history. The rise in property values will yield an increase in property tax revenues of over $19 million for the county.  All of the county's 19 cities are seeing increases in their assessed property tax roll, ranging from 7.1% - 20.12%.
 
The RNs, members of the California Nurses Association/National Nurses United have been calling on the County to step up to the plate and assume responsibility for management and operation of the hospital and its emergency room.

"We are now absolutely convinced that the County has the resources to meet its obligations to operate DMC as a full service hospital. The time for excuses is over," said Deborah Burger, RN and CNA Co-president. "The property tax windfall combined with the general improvement in the county's finances lays the groundwork for the Board of Supervisors to take decisive action to stabilize DMC and assure residents that they will continue to have access to the hospital's services."
 
"It seems to me that the county is more anxious to build jails than we are to save lives," said Reverend Boaston E. Woodson, Pastor of Resurrection African Methodist Episcopal Church in Richmond. "I have many congregants that depend on DMC. You will open the doors to death if you close the doors to DMC. Now that the county has the funding to keep it open what could possibly be their purpose in closing it?"
 
 "There is already a dramatic difference in health in Contra Costa County based on where people live.  The sad fact is that residents of Richmond and San Pablo, as well as other lower-income communities, have lower life expectancies, higher cancer rates and higher childhood asthma rates than wealthier communities, said Tony Thurmond, former Richmond City Councilmember and currently a candidate for the Califonia State Assembly. "The last thing we can afford to do is close a hospital largely serving underserved communities. With tax revenues increasing, our first priority should be to invest those new revenues in protecting health services."
 
"Every single life matters, even the lives of those of us in West County," said Jovanka Beckles, Richmond's Vice-Mayor. "This good news about the increase in property tax revenue enables the county to guarantee that DMC's life-saving resources stay close to home, close to the communities that so acutely need them including San Pablo, Hercules and Richmond."
 
In June, prior to learning of the unexpected increase in tax revenues, the County Board of Supervisors voted to table a proposed sales tax, proceeds from which would have partially gone to keep Doctors Medical Center open as a full service hospital. The Board decided instead to loan DMC $6 million dollars to keep it open this summer while a proposal to keep the hospital open as a downsized, stand-alone emergency room was developed. Operating DMC as an emergency room only would be in direct contravention of state law that requires a facility with emergency services to at least also include other hospital services needed to accompany an ER, especially an operating room and intensive care services.
 
RNs note that DMC provides 60 percent of the emergency care in the region, some 40,000 patients a year and has 79 percent of the hospital beds. Patients from throughout the area, including members of Kaiser Richmond, who require emergency cardiac catheterization are sent to the highly specialized STEMI unit at DMC. If the unit is closed, patients will have to travel congested freeways, possibly to Oakland or San Francisco.
 
Additionally, the nurses have noted that the hospital serves many indigent patients and a closure would have a disparate and disproportionate impact on the health of African Americans and senior citizens in violation of their civil rights.
 
Last week RNs, community leaders and patients held a picket in front of DMC to protest the county's refusal to move forward with a plan to save the hospital. San Pablo resident, Irene Thompson, recently treated at DMC for a heart attack, held aloft a sign reading "DMC Saved My Life! Save DMC!"
 
"What will happen the next time Chevron blows up?" said Thompson. "What will happen the next time an oil train derails near my house? What will happen the next time there's an earthquake rupturing gas lines along San Pablo? And that's not if, that's when. What will happen? We need DMC."