Press Release
NNU to Join People's Climate March Cite Public Health Need for Action on Climate Crisis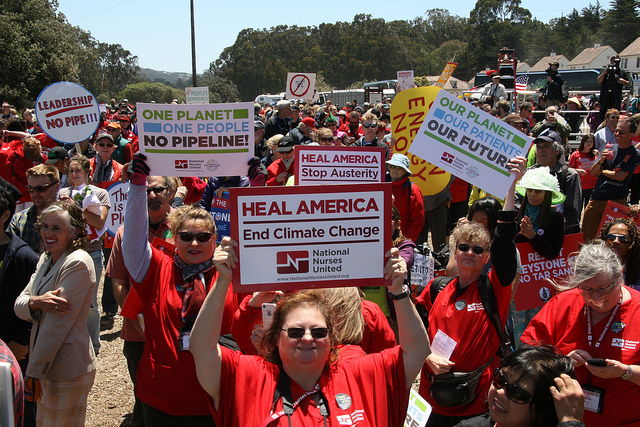 With new signs of the global climate crisis emerging almost daily, the nation's largest U.S. organization of nurses today announced it will participate in what is expected to be the largest march to date calling for action to stem the harmful effects of climate change to be held September 21, 2014 in New York City with companion events being scheduled around the world.
 
National Nurses United leaders say they will emphasize in particular escalating concerns about the health hazards posed by the effects of the climate crisis in the form of increased pollution linked to fossil fuel production, tar sands extraction and transport, fracking, severe weather emergencies from hurricanes, typhoons, and drought, and longer term problems associated with global warming.
 
The climate march in New York comes the day before a United Nations being convened by UN Secretary-General Ban Ki-moon on September 23, 2014 at which many heads of state are expected to attend. Ban Ki-Moon is calling on governments to agree on an ambitious global agreement to dramatically reduce greenhouse gas emissions.
 
More than 550 environmental, labor, healthcare, and community organizations from the U.S. and around the world have endorsed the march.
 
In the past few years, NNU members have stepped up participation in support of environmental and climate actions with the focus on health impact, sending RNs to provide basic medical aid following weather disasters, including Hurricanes Katrina and Sandy and most recently Typhoon Haiyan in the Philippines, speaking out against the Keystone XL pipeline, petroleum coke pollution in Chicago, and refinery pollution in Los Angeles and Richmond, Ca.
 
"In hospitals and clinics across the U.S., nurses see growing numbers of patients arriving with serious health complications, from asthma and other pulmonary distress to cardiac disease to eye and skin damage to reproductive problems to cancer that are directly associated with pollution and other environmental disruption linked to the climate crisis," said NNU Co-President Deborah Burger, RN.
 
"As advocates for our patients, as well as for our own families, our communities, and our planet, we must speak out for real action on the climate crisis. There is no time to lose," Burger said.