Press Release
NNOC and Community Call on Venice Regional Medical Center Board to Keep Close Watch on New CEO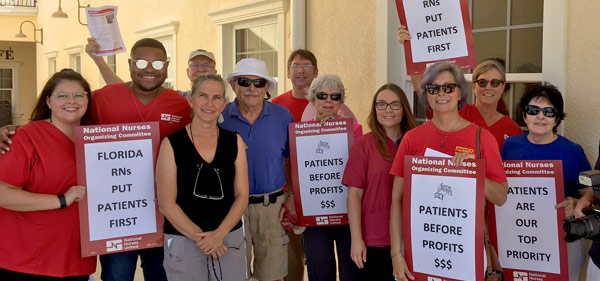 The National Nurses Organizing Committee (NNOC) and concerned community members will hold a press conference today, Wednesday, August 30, to ask that Chair Lynn Joyner and the Venice Regional Medical Center Board of Trustees take immediate steps to assure safe quality patient care at Venice Regional Medical Center (VRMC).
"Considering the alleged unresolved patient care issues the newly hired CEO, Bob Moore, left behind at Munroe Regional Medical Center (MRMC), it is absolutely imperative that the VRMC Trustees exercise strict oversight to avoid potential violations of Florida law and safeguard quality patient care at VRMC," said Sarasota RN, Anna McGrath.
In July, the NNOC called on Munroe Regional Medical Center in Ocala, Fla. then directed by CEO Bob Moore, to reinstate registered nurses who were terminated after they objected to working in conditions they deemed unsafe for patients and possibly unlawful. A complaint was filed with the Florida Agency for Health Care Administration and is still pending.
What:  Press Conference - Community members, RNs Call on Chair Lynn Joyner and VRMC Board to Safeguard Patient Care at Venice Regional Medical Center
Where:  In front of Joyner Family Insurance, 1500 East Venice Ave. Venice. Fla.
When: Weds. August 30, 11 a.m.
The NNOC sent a detailed letter to VRMC Board Chair Mr. Joyner on August 23, 2017 outlining the alleged problems under Mr. Moore's tenure at MRMC, including severe staffing shortages and the firing of three registered nurses who, acting in accordance with their professional responsibility, protested unsafe patient care loads. 
"Nurses notified NNOC that on or about May 17, 2017, MRMC nursing administration made a patient care assignment to registered nurses that included more than 10 patients on a cardiology medical/surgical unit (5 South), an outrageously unsafe situation for patients and a dangerous assignment for the nurses," the letter explained, also noting that NNOC believed MRMC's conduct was out of compliance with Florida state statutes and codes. 
"National nursing standards dictate that a safe nursing assignment for a Cardiology Med/Surg unit should be five patients to one nurse, never exceeding a sixth patient. We find it hard to believe that such an assignment with 10 or more patients would comply with the hospital staffing plans and policies which are required by Florida state regulation," said NNOC Nursing Practice Specialist Gerard Brogan.
Bob Moore was the CEO at the time of both the alleged unsafe assignments and the termination of the three registered nurses.
Both VRMC and MRMC are part of the troubled hospital chain, Community Health Systems (CHS). The National Labor Relations Board has upheld numerous unfair labor practice charges filed by NNOC/NNU against hospitals owned by CHS and its spin-off Quorum, in Ohio, West Virginia and California, and three US District Courts have issued injunctions in response to these employer's unlawful conduct in contract negotiations with registered nurses.  
NNOC is affiliated with National Nurses United (NNU), the largest organization of registered nurses in the United States with 150,000 members. NNU plays a leadership role in safeguarding the health and safety of RNs and their patients and has won landmark legislation in the areas of staffing, safe patient handling, infectious disease and workplace violence prevention.