Press Release
Munroe Regional Medical Center Fires RNs for Refusing Assignments They Deemed Unsafe for Patients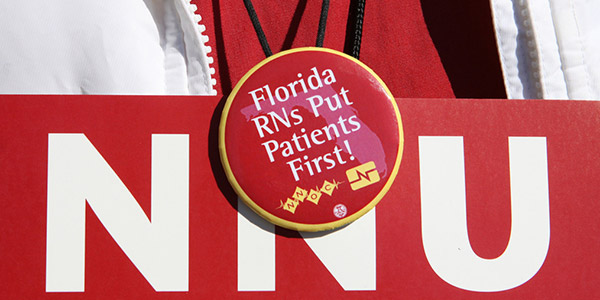 National Nurses Organizing Committee Demands MRMC, and Parent Company CHS, Reinstate RNs Immediately
The National Nurses Organizing Committee (NNOC) has called on Munroe Regional Medical Center (MRMC) in Ocala, Fla., to reinstate registered nurses who were recently terminated after they objected to working in conditions they deemed unsafe for patients and possibly unlawful. A complaint has been filed with the Florida Agency for Health Care Administration.
The MRMC administration reportedly informed the RNs they would be assigned 10 or more patients on a Cardiology Medical Surgical Unit, an assignment, the nurses and NNOC believe, failed to comply with several Florida State regulations, including:
Title XXIX of the 2016 Florida Statutes, 395.1055, requiring that "sufficient numbers and qualified types of personnel and occupational disciplines are on duty and available at all times to provide necessary and adequate patient care and safety."
Florida Administrative Code (FAC): Rule: 59A-3.2085 (5)(f), which requires "A sufficient number of qualified registered nurses shall be on duty at all times to give patients the nursing care that requires the judgment and specialized skills of a registered nurse, and shall be sufficient to ensure immediate availability of a registered nurse for bedside care of any patient when needed, to assure prompt recognition of an untoward change in a patient's condition, and to facilitate appropriate intervention by nursing, medical or other hospital staff members."
Rule 59A-3.2085 (5)(d) which requires that "each hospital shall develop written standards of nursing practice and related policies and procedures to define and describe the scope and conduct of patient care provided by the nursing staff. These policies and procedures shall be reviewed at least annually, revised as necessary, dated to indicate the time of the last review, signed by the responsible reviewing authority, and enforced."
"National nursing standards dictate that a safe nursing assignment for a Cardiology Med/Surg unit should be five patients to one nurse, never exceeding a sixth patient. We find it hard to believe that such an assignment with 10 or more patients would comply with the hospital staffing plans and policies which are required by Florida state regulation," said NNOC Nursing Practice Specialist Gerard Brogan.
NNOC has since learned that three nurses objected to this assignment, which is a form of "protected concerted activity," protected under the National Labor Relations Act.  It has been reported to NNOC that the charge nurse of the nursing unit told the nurses before they clocked in for their shift that they would be given an assignment of 10 patients without informing them of any potential consequences of failing to clock in.  The three RNs were subsequently terminated, while those nurses that remained were reportedly assigned twelve patients.
MRMC is owned by Tennessee-based Community Health Systems/CHS. The NLRB has upheld numerous unfair labor practice charges filed by NNOC/NNU against hospitals owned by CHS and its spin-off Quorum, in Ohio, West Virginia and California, and three US District Courts have issued injunctions in response to these employers' unlawful conduct in contract negotiations with RNs. 
NNOC is affiliated with National Nurses United, the largest organization of registered nurses in the United States with 150,000 members. NNU plays a leadership role in safeguarding the health and safety of RNs and their patients and has won landmark legislation in the areas of staffing, safe patient handling, infectious disease and workplace violence prevention.