Press Release
Maine Nurses Support Bill to Restore Public Health Nursing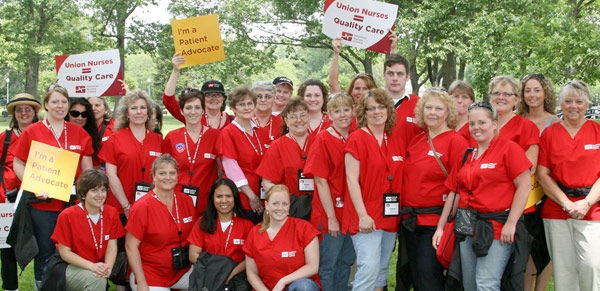 LD 1108 Gets First Hearing Thurs.; RNs Say Public Health Services Must Become Priority Again
Maine nurses have come out in strong support of LD 1108, An Act to Restore Public Health Nursing Services (Sen. Brownie Carson)—which will have its first hearing on Thursday, April 13, the Maine State Nurses Association/National Nurses United (MSNA/NNU) announced today.
"It is imperative that public health services for children, infants and their parents become a priority again," said Cokie Giles, RN, NNU co-president. Giles is referring to Maine public health officials' cutbacks to a public health nursing program in charge of responding to disease outbreaks, providing home-based postpartum services to new mothers and babies, and providing nursing services at rural schools which would not otherwise have access to a nurse.
When Governor Paul LePage took office in 2011, there were around 50 nurses in Maine's public health program; today there are only around 20. LePage has dismantled this program, say nurses, by not filling open RN positions, by removing support staff and systems, and by replacing postpartum visiting RNs with non-medical personnel who are not trained or licensed to deliver health services to new parents and babies. A 2013 budget proposal from LePage cites public health nursing as a target area to cut.
"Governor LePage's destruction of public health needs has caused suffering among patients in this state. Public health services need to be restored," said Giles. "LD 1108 is emergency legislation that must urgently be passed, and of course nurses are also fighting for single payer, Medicare for all as a long term solution to this broken healthcare system that puts profit over patients. No one should ever go without lifesaving care—especially not mothers and babies, students, and other vulnerable members of our communities, all of whom are cared for by public health nurses."
What: First Hearing on LD 1108, An Act to Restore Public Health Nursing
When: Thursday, April 13, 1 p.m.
Where: Health and Human Service Committee Room, Cross Building, Maine Statehouse (State and Capitol streets), Augusta, Maine
In the wake of LePage's downsizing, nurses say they are concerned that public health nurses are now dangerously understaffed for their everyday work, let alone responding to a pandemic or other unforeseen public health emergency, and they are also working without an office, under one nurse supervisor who also doubles as the program director.
According to text of the legislation, LD 1108 would rectify cutbacks by:
Setting required staffing in the program, with a minimum of 50 nurses.
Establishing deadlines for enacting staffing requirements.
Mandating the Public Health Nursing Program by September 1, 2017 and October 15, 2017 to report on progress in achieving full staffing.
Requiring the Joint Standing Committee on Health and Human Services to conduct a review of public health nursing services including types of public health needs of persons who have recently moved to the State, services being provided to meet those needs and any unmet needs. The bill requires the committee to provide to the Legislature a written report of its findings and recommendations for any future action by January 1, 2018.
"We believe this hearing tomorrow is the first step toward repairing cuts to Maine's public health nursing program that are irresponsible and frankly, dangerous," said Giles. "We expect elected officials to do the right thing and move this bill forward because the health and safety of Maine residents hangs in the balance."
MSNA represents over 2000 bedside nurses through out Maine. NNU is the largest union of registered nurses in the country, with over 150,000 members nationwide.